It is clear that the desire and reality sometimes don't match: want everything cheaper, and get a little expensive. Some way to describe the situation in the Russian automotive market, which is why the abstract "dream car" turned out the way it turned out.
The Agency "AUTOSTAT" published the results of an online survey of Russians about how exactly the car they wish to own. The survey involved more than 9 500 Russians, however, as noted separately, 90% of them at the time of the study owned a personal car.
Most desirable for the Russians car, like last year, called crossover or SUV: this class is chosen 55% of the respondents. 78% of survey participants gave the car all-wheel drive, and 70% in the choice between different types of transmissions preferred the automatic transmission. Well, the experts on the classical problem of the firstlings of chicken or the egg and interaction of supply and demand remains to be seen what the roots of these statistics: whether it is brands so adversely affect the mass consciousness, literally forcing people a choice, or blind herd instinct takes over by itself, and the manufacturers adapted to it under the slogan "Nothing personal, just business"…
Also more than half – 53% of Russians made a choice in favor of the petrol engine and the most popular output was the number "150-200 HP" (this range was chosen 35% of the respondents. And, most interesting, according to study participants, the cost of such a car needs one and a half million rubles.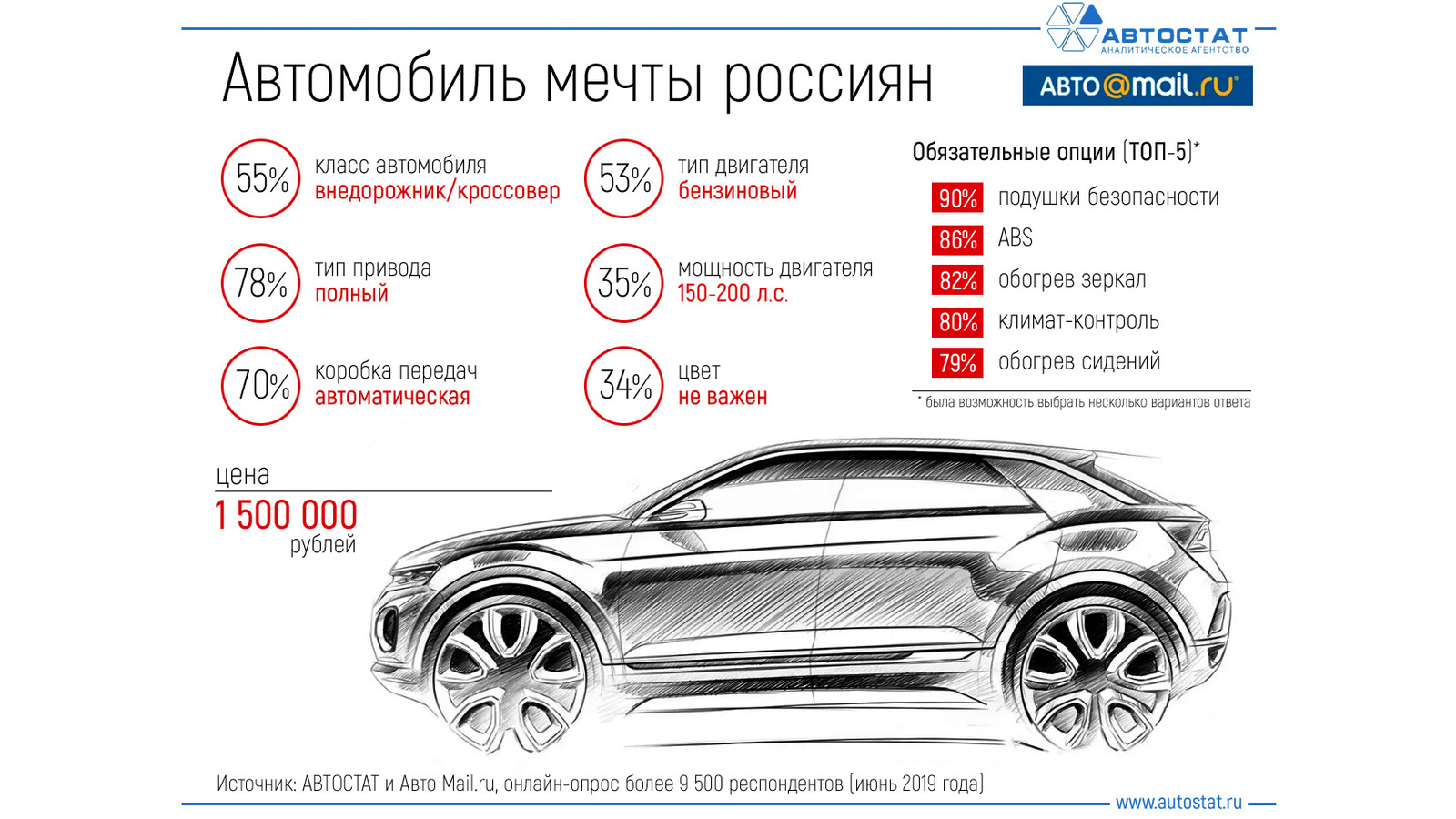 The Russians have expressed their preference on the part of onboard equipment. Top 5 most popular options includes airbags, ABS, heated mirrors, climate control and heated seats.
It should be noted that in comparison with the similar last year's survey of the preferences of Russians have settled. The share of AWD crossovers became more noticeable, the engine of this year's respondents chose more powerful (in 2018 was in the lead category 100-150 HP), but also "dream car" in the minds of the people of Russia have risen: in 2018, the optimal price for the machine mentioned in the survey of steel 1 190 000 rubles.