Science
Found the remains of the largest parrot in history
A fossil parrot, reaching one meter in height, was discovered by specialists representing a number of Australian and new Zealand research organizations. It is assumed that the bird lived in New Zealand for more than 16 million years ago, belonged to the owl parrots, and weighed about seven kilograms.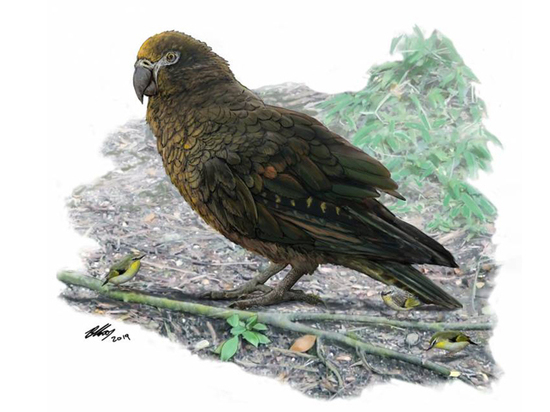 The new species was named. Heracles inexpectatus, which translates as "unexpected Hercules." Experts note that initially took his parrot bones for the remains of the duck as still so large parrots paleontologists to discover it was not possible. It is assumed that "Hercules" did not fly, and was traveling across the land, eating nuts, fruits and seeds. It is assumed that this type of food in New Zealand those times can be found in abundance, so that the parrots hardly had difficulty searching for it. However, experts do not exclude that the large size combined with a powerful beak allowed Heracles inexpectatus to not only eat food of plant origin, but also other animals.
The study was published in the journal Biology Letters.
Today New Zealand is home of the alleged "relatives" Heracles inexpectatus, called the kakapo. These birds, also known as owl parrots are considered to be "thickest" among their relatives — they weigh two to four kilograms with a body length of about 60 centimeters. Kakapo can't fly, are nocturnal, and are also the only species of parrots that have palyginimui system of breeding in which one male can reproduce with several females during one season. According to some versions, they are among the oldest living species of birds. A species has a total of 147 adults, that is on the verge of extinction. However, recently it was reported that the kakapo began to multiply at a record pace, slightly increased the chances of the species for preservation.