Auto
New truth about the effectiveness of airbags: the results of the tests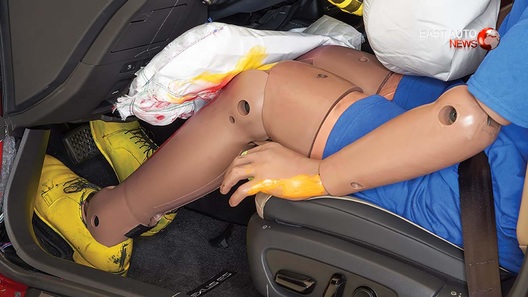 The first airbag is optional the production cars began to be equipped with in the early 70-ies of the last century, and from the mid-80s they got massive use, that is the history of this means of passive safety has been almost half a century, and it saved the lives and preserved the health of a huge number of people. And nevertheless it continues to argue.
Again, initially, the airbag is in most cases installed only in the driver's seat, then passenger, then they appeared rear, side, top, bottom… Guided by the principle of "More pillows good and different!" engineers tend, in fact, to surround the driver and passengers of the car kind of inflatable cocoon.
However, it appeared that, in the language of advertising slogans, not all airbags are equally useful, and may even cause harm. Speech, in particular, are becoming more common knee pillows security Agency (hereinafter PBC), which has been shown in a recent study by the Insurance Institute for highway safety (IIHS, USA), to a small extent can protect from injury and, moreover, in some cases, may even increase the risk of obtaining them.
The study was based on data 400 special front crash tests and analysis of information from reports of real accidents in 14 countries. Moreover, we compared the effects as in the case of vehicles equipped with the PBC and are not equipped with such.
According to the results of crash tests with a small panaritium (the degree of overlap, in fact, is the area of interaction between the vehicle and the obstacle at impact; a small degree – 25% of the width of the machine), the PBC showed extremely low efficiency and, conversely, increased the likelihood of injury tibia and right femur. Although reduced to some extent, ironically, the risk of head injury – due to more precise fixation of the lower part of the body. Tests with 40% overlap is demonstrated and the complete uselessness of the PBC.
As for the actual accidents, the analysis confirmed the reduced risk of traumatic by only half a percentage point (from 7.9% to 7.4%) that is statistically insignificant value.
"There have been many alternative developments, aimed, like the PBC, to protect the feet from injury, and these systems can be equally, if not more effective, – stated in the conclusion of the IIHS, however, further stipulates that the researchers studied only those cases where the passengers were wearing seat belts: One of the reasons that automakers equip their vehicles with knee airbags, the need to pass including mandatory tests with unbelted dummies. Therefore, do not exclude the possibility that the PBC can be really helpful in case of an accident with passengers who ignore elementary safety rules".
What we conclude? That's right: a pillow helps those who help themselves – don't forget to wear your seat belt!