World
Philippine President promised to cut the heads of the drug lords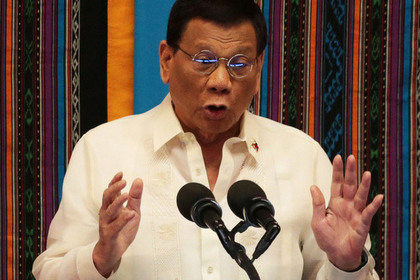 The President of the Philippines Rodrigo Duterte said he was willing to cut the heads off the drug lords and is not afraid to go to prison for it. It is reported by the Manila Bulletin.
"I hate drugs. If you're a big drug dealer, no matter you're Chinese, Japanese or Malaysian that sells tons of drugs, I will cut your head off," said the Philippine leader.
The President noted that it is not afraid to go to jail, but in this case, asked to bring him food once a year at Christmas. The politician also said that he is not going to execute small traders and peddlers of drugs.
In September 2018 Duterte called "her only sin" extrajudicial killings during the war on drugs.
The international criminal court (ICC) in March 2018 has started investigation of Duterte mayor of Davao city, and then as President. According to official data of the government, for the first two years of drug control in the Philippines was killed about 4.5 thousand people, mainly small-time drug dealers and drug addicts. According to the ICC, killed at least eight thousand, but, according to some human rights groups, the number reaches 12 thousand.