Science
Named the reason for the unprecedented fires in Russia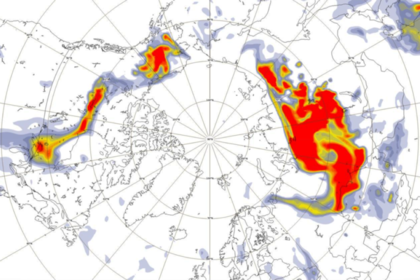 The most powerful forest fires was in the North of Russia, Greenland and Alaska. Climatologists have called the disaster unprecedented in scale, due to the impact of climate change. In the future this situation will be repeated from year to year, unless actions are taken to reduce anthropogenic impact on the atmosphere. This publication reports Science Alert.
From the beginning of June in the Arctic circle, scientists have recorded more than a hundred forest fires. Russia was on fire at least 11 regions. Although this disaster is not unusual, in recent years it has increased significantly, which experts attribute to global warming. Climate scientists and the world meteorological organization called the fires are unprecedented because of their high intensity and large quantity. In some cases, the area of the fire covers over a hundred thousand hectares.
The #siberianfires in #KrasnoyarskKrai and #SakhaRepublic, #Russia now created a smoke lid extending over 4 and half million of sq km over central northern Asia. This is staggering. @m_parrington @CopernicusEU @DanLindsey77 pic.twitter.com/A8fleCzr3k

— Santiago Gassó (@SanGasso) July 24, 2019
According to geographer and ecologist Thomas Smith (Thomas Smith) from the London school of Economics, and forest fires this year are the strongest in 16 years of satellite observations. Aggravating the situation are the fact that wood combustion emit greenhouse gases, which increase global warming, creating a sort of vicious circle. The amount of carbon dioxide emitted in June 2019 with the territory North of the Arctic circle, exceeds the amount released as a result of fires in the same region for the entire period 2010-2018 years.
According to the Earth Observatory, NASA, smoke plumes spread across Russia, covering major cities and significantly degrading air quality, even in regions where there is no fire. Over North Central Asia formed a smoke "hood", covering over 4.5 million square kilometers.