World
Putin noted the helpfulness of the Macron during a meeting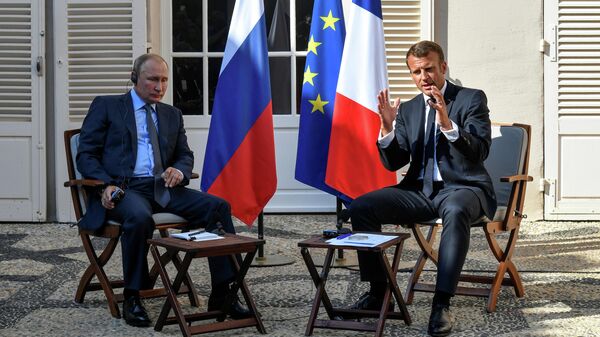 Russian President Vladimir Putin meeting with President of France Emmanuel Macron said he will try to be brief, because his French colleague was so kind that gave the Russian delegation a spot in the shade and sat down on the Sunny side.
On Monday, the Makron will conduct a meeting with Putin in the official summer residence of French presidents – Fort Bregancon. Talks French and Russian presidents will take place a few days before the G7 summit, which will take place in the French Biarritz from 24 to 26 August. The temperature in this area is now more than 30 degrees.
Жара во Франции. Путин поблагодарил Макрона за место в тени: "Господин Макрон так любезен, что всю нашу делегацию посадил в тень, а сам сидит на солнце. Поэтому я постараюсь быть кратким" pic.twitter.com/J53VOFg3q9

— Кремлевский пул РИА (@Kremlinpool_RIA) August 19, 2019
"Mr. macron kind enough to put our entire delegation in the shade, and he sits in the sun, so I'll try to be brief, while some things had to repeat," – said Putin at the beginning of his speech.