World
Foreign Affairs Canada has called the conditions of Russia's accession to the G7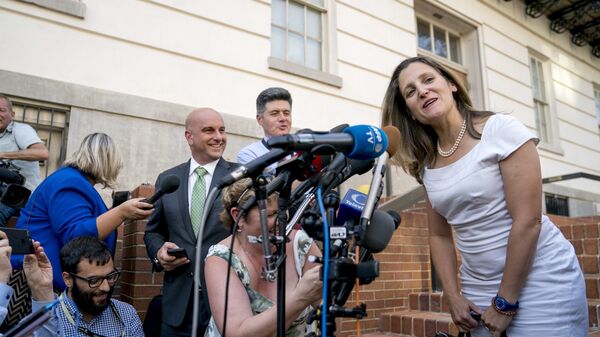 Can Russia join the G7 only after the "withdrawal from the Crimea" and the end of the war in the Donbass, said foreign Minister of Canada Chrystia Freeland.
Earlier, the President of the United States Donald trump agreed to the proposal of the President of France Emmanuel Makron to invite Russia to the summit of G7 in 2020 in the United States. As expected, the trump will raise this issue at the G7 summit in Biarritz. Russian President Vladimir Putin, in turn, said that Russia believes any useful contacts with the countries "the Big seven" does not exclude the resumption of G8 format.
According to Freeland, the G7 would be happy to open its doors to Russia, if the country wants to join "the democratic bloc of countries". "If it (Russia) wants it, she needs to withdraw from Crimea and end the war in the Donbass", – she told journalists at a press conference.
Relations between Moscow and Kiev deteriorated on the background of the situation in the Donbass. Ukrainian authorities have repeatedly accused Russia of meddling in the internal Affairs of the country. In January 2015 the Verkhovna Rada adopted the statement in which Russia is called "an aggressor country". Russia charges Ukrainian side denies and calls unacceptable. Moscow has repeatedly stated that it is not a party to domestic conflict and is interested in Kiev overcame political and economic crisis.
The format of "Big eight" has existed since 1998. In 2014, he was reduced to the G7 when the background of events in Crimea, the members of the club decided not to go to the next summit in Sochi and gathered without Russia in Brussels. Western countries have accused Russia of meddling in the Affairs of Ukraine and have imposed sanctions. Moscow retaliated, repeatedly rejected all accusations and claimed to talk to her in the language of sanctions is counterproductive. Recently in the West often hear opinions about the necessity of cancellation of sanctions against Russia.
Crimea became a Russian region after held there in March 2014 referendum in which 96.77% of voters in Crimea and 95.6% of residents of Sevastopol voted for joining Russia. Crimean authorities held a referendum after a coup in Ukraine in February 2014. Ukraine still considers Crimea its but temporarily occupied territory. The Russian leadership has repeatedly stated that the inhabitants of Crimea democratically in full compliance with international law and the UN Charter voted for reunification with Russia. According to the President of the Russian Federation Vladimir Putin, the Crimea issue "is closed permanently."