World
Lavrov said on Russian military in Syria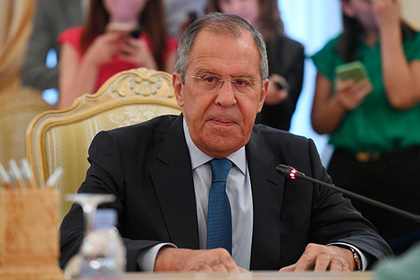 The Russian military are in the area of de-escalation in the Syrian province of Idlib and continue to respond to terrorist attacks. This statement was made by Minister of foreign Affairs of Russia Sergey Lavrov, reports RIA Novosti.
"We are not just closely monitoring the situation, our troops are on the ground in Iglinsky area of de-escalation," — said the Minister. He added that Moscow expected from Ankara providing disengagement between the armed opposition that is willing to participate in the settlement, from terrorist groups.
"We made it clear that if they [the terrorists] will carry out raids from this zone, they will be severely suppressed," — said Lavrov. According to him, Turkey received warnings about the response to the terrorists attacks, because they are not subject to the ceasefire.
Earlier it was reported that militants are withdrawing from key town of Khan Shaykhun the southern Syrian province of Idlib on the offensive against the government forces. The jihadists were forced to retreat to the South of the city and its environs. Thus an important Turkish observation post in the nearby town of Morek in fact, was surrounded by the Syrian army.
Area of de-escalation in Idlib is one of four existing in Syria. It was created by Russia and Turkey in 2017. Most of it is still not demilitarized and is under the control of militants grouping "Hayat Tahrir al-sham" (HTS created on the basis of the banned in Russia "Dzhabhat EN-Nusra") and the armed Syrian opposition. Moscow and Damascus believe the majority of insurgents in the zone by terrorists.