Science
Record drought exposed sunken Thai temple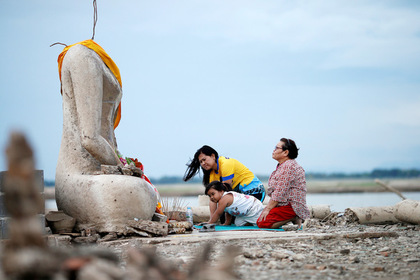 The lower water levels due to severe drought in Thailand has exposed the ruins of an ancient temple, which was flooded along with the nearby village 20 years ago because of the construction of the dam. This publication reports Live Science.
Buddhist temple Wat Nong Bua Yai also show in 2015, however, according to the Meteorological Department of Thailand, the current drought has led to a record drop in water level in the reservoir up to three percent. Some regions suffer from the most severe drought in the last 50 years. The strongest observed in the last hundred years the shallowing of the Mekong river (Mekong River), which flows along the border of Thailand and Laos.
Abnormal drought in the monsoon season — the wettest time of year in South-East Asia. To support agriculture the government of Thailand has resorted to creating artificial clouds.
Earlier, on August 7, it was reported that the researchers came to the conclusion that the increase in average global temperatures by 1.5-2 degrees Celsius higher than in the nineteenth century would lead to an increase in mortality in the tens of thousands of people a year in China alone.