World
Togo became the fifteenth country to withdraw recognition of Kosovo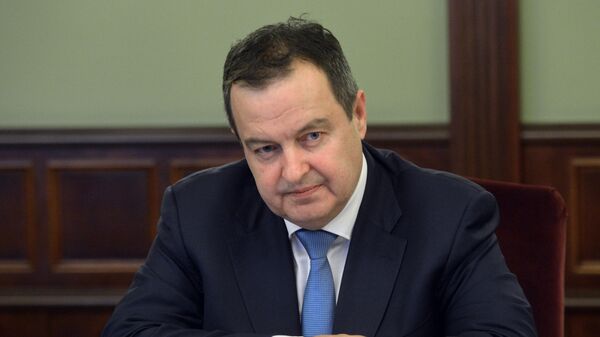 The fifteenth state, revoke the recognition of the self-proclaimed Republic of Kosovo became the African country of Togo, said the first Deputy Prime Minister and foreign Minister of Serbia Ivica Dacic.
Dacic at the beginning of August stated that the soon to be called the 15th state to withdraw the recognition of Kosovo's independence, and said that only less than 100 recognise. Serbian media then suggested, that we are talking about, but the Minister did not specify the name of the country and said that "soon will show an official note".
"That is the 15th country that withdrew the recognition of the self-proclaimed Republic of Kosovo… the Note was sent on 28 June, Vidovdan," said the head of the foreign Ministry, the TV channel Pink.
The feast of Vidovdan (St. Vitus day) is of great symbolic and historical significance for the Serbs, it is dedicated to the anniversary of the battle of Kosovo Polje on 28 June 1389 by the Ottoman Turks.
Dačić still has not revealed the name of the country in agreement with Serbian President Aleksandar Vucic, not to annoy the US, UK, Germany, France and Italy, whose ambassadors in Pristina in August called on Belgrade to stop lobbying for the withdrawal of recognition of Kosovo in third countries.
In late July, the Central African Republic has announced that it has become the 14th state to withdraw recognition of Kosovo. The Ministry of foreign Affairs of Serbia said that the recognition of Kosovo before it was withdrawn Palau, Madagascar, Solomon Islands, Comoros, Dominica, Suriname, Liberia, Sao Tome and Principe, Guinea-Bissau, Burundi, Papua New Guinea, Lesotho and Grenada.
In 1999, armed confrontation between the Albanian separatists of the Kosovo Liberation army and the army and police of Serbia led to the bombing of Yugoslavia (then consisting of Serbia and Montenegro) NATO forces. Kosovo Albanian structures in Pristina on 17 February 2008 unilaterally declared independence from Serbia. Kosovo does not recognize Serbia, Russia, China, Israel, Iran, Spain, Greece and several other States.
The leadership of Serbia under the pressure of Brussels and the region of convergence with the European Union, as well as for the sake of ease of life in the region, Serbian citizens in 2011 was forced to start negotiations on the normalization of relations with Kosovo Albanians with the mediation of the EU. Currently, the dialogue is suspended.