Crypto News
Opinion: litecoin is almost exhausted the potential for further growth
After an aggressive push in early April, litecoin had almost ceased to grow in the middle of this month that has led some analysts to declare the exhaustion of resources for the new price increase of the coins.
Since the beginning of 2019 litecoin (LTC) has grown almost twice and has set itself the task to overcome the barrier of $100. In early April, the coin showed in the final stretch, but he was much weaker than the previous, and now LTC has actually is preparing for the sale.
At the time of publication the exchange rate of litecoin was at $80, while its market capitalization was just above $4,931 billion Coin is located on the sixth line of the rating of the largest cryptocurrencies, although just recently she took it in fourth place.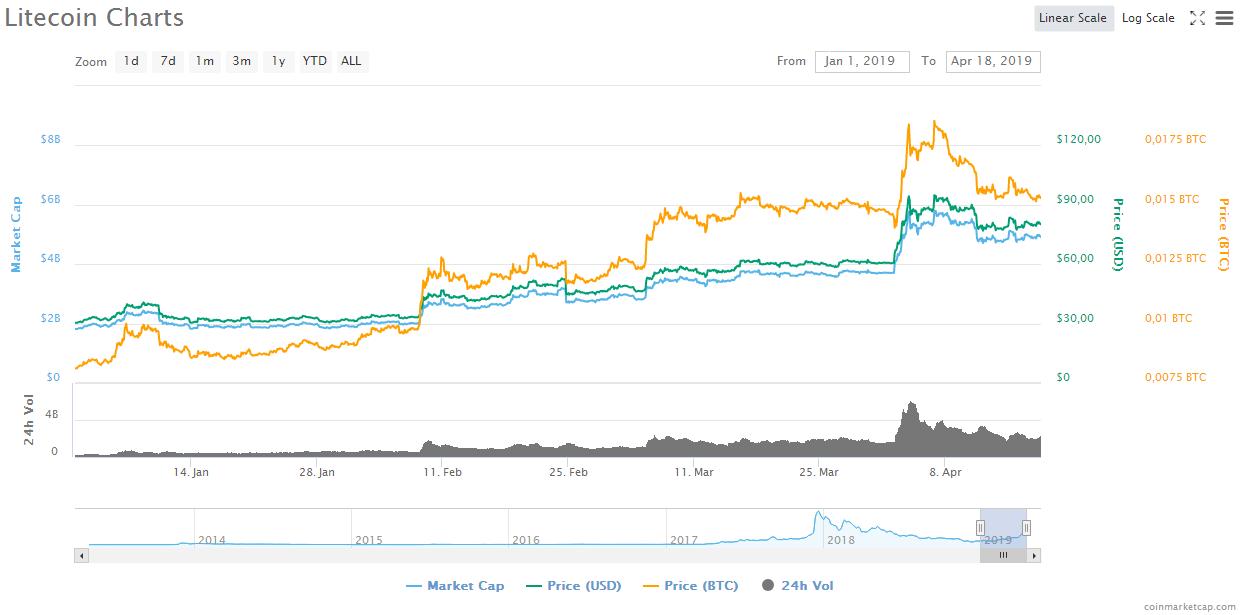 BitOoda analyst Brian Donovan believes that the potential for sustaining growth of litecoin almost completely exhausted. Therefore, in the nearest future we will have to wait for the beginning phase of the sale of the asset.
According to experts, the result sales will drop LTC to $70-75. At $75 litecoin will be able to hold out for some time, but then the negative trend will become dominant.
Donovan said:
LTC has risen from the lows of last December with $22 by approximately 350%. Short-term pullback is not unlikely, but it can be significant
However, there are cryptosuite optimistic experts, which put on a spurt of litecoin to $100 and above.
One of them under the name Rhythm Trader posted on Twitter in which he stressed that now LTC is under pressure, and if the coin survive it, you'll be able to show more impressive growth. In this case, there are real chances for overcoming the psychological threshold of $100.
Aggressive traders and analysts believe that the growth in the demand for money will increase as you approach the date of the reduction award for mining LTC in August of this year, which will lead to a sharp reduction in the supply of the asset on the market.