Science
Robot "Fyodor" was not able to identify Erdogan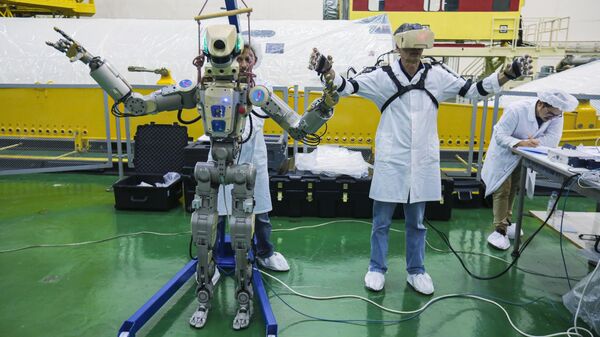 Russian anthropomorphic robot "Fedor" on his page on Twitter called Turkish President Recep Tayyip Erdogan "unidentified party radio".
После вчерашнего общения с @KremlinRussia и ещё одним не идентифицированным участником радиообмена мой оператор Александр Скворцов три раза заглядывал через шлюз агрегатного отсека ко мне в корабль и показывал эту комбинацию кисти правой руки. Сегодня начали испытания экзоскелета pic.twitter.com/nalFMRVYvb

— FEDOR (@FEDOR37516789) August 28, 2019
On Tuesday in the pavilion of GK "Rosatom" on the MAX-2019, where Vladimir Putin came together with the Turkish counterpart, the President was contacted by teleconference with the ISS astronauts Alexander Skvortsov and Alexei Ovchinin.
Besides them, on Board the station was a robot "Fedor", which arrived on the same day.
Earlier, the RIA Novosti source in the rocket and space industry said that "Fedor" during his stay on the International space station will charge to clean the portholes of dust, hold a flashlight to eat the wire and connect the plugs.
To control the movements of the robot on the station will be cosmonaut Alexander Skvortsov using a special suit, and Alex Ovchinin will take the experiment to the camera, then the engineers have evaluated the success of the work in conditions of weightlessness.
Fedor will stay in orbit until September 6.