World
The European Union supported the mysterious plan of Ukraine in Donbass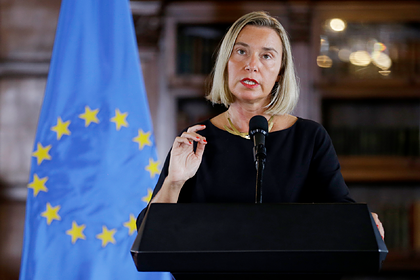 European countries have approved a plan to resolve the conflict in the South-East of Ukraine, which was presented by the head of the Ukrainian Ministry of foreign Affairs Vadym Prystayko. This was stated by EU high representative for foreign Affairs and security policy Federica Mogherini, reports TASS.
According to her, the Minister presented his European colleagues in Luxembourg, "comprehensive enough" and how satisfactory the reforms in the country and the situation in the Donbass document. "We saw some positive development and want to support it," — said the head of European diplomacy.
The details of the plan were not disclosed. At the same time, Mogherini reiterated the commitment to the territorial integrity of Ukraine and support its sovereignty.
Earlier the President of Ukraine Vladimir Zelensky said about the existence of a secret "plan B" to resolve the situation in the Donbass, which can be an alternative to the Minsk agreements. He refused to disclose the details of this strategy Kiev, saying only that he was not satisfied with the current format of the agreements.
On 1 October the participants of the tripartite contact group to resolve the conflict in the East of Ukraine signed "a formula Steinmeier" — the document that defines mechanism for fixing the special status of Donbass and Amnesty, and elections not under the control of Kiev territories. October 6, thousands of Ukrainians took to the streets to protest against the implementation of the agreement. The demonstrators considered that the consent to the terms, "formula" means the surrender of Ukraine.
The Minsk agreement, signed by representatives of Kiev and the breakaway republics provide for an immediate ceasefire, the withdrawal of heavy weapons from the line of contact, the constitutional reform in Ukraine the consolidation of the special status of Donbass, as well as the elections in the breakaway republics.