Technology
Medvedev urged to prepare for retraining for robotics work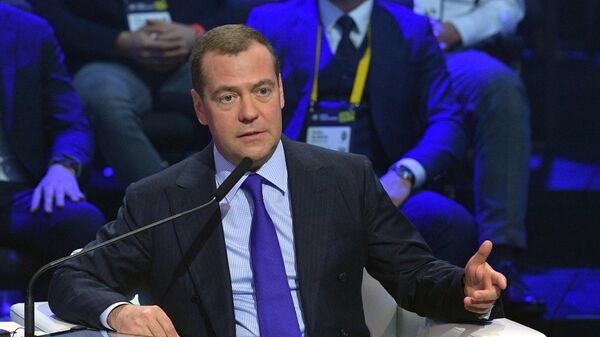 One of the challenges for the labour market today is robotics, but the problem is not new, and low-skilled labor, in the end, must move to the robots, while people need to think creatively and quickly to solve, said the Chairman of the government of the Russian Federation Dmitry Medvedev.
"The second challenge is the transformation of the labour market in connection with robotics. New always causes, as we know, anxiety. Let me remind you that a fear of competition with cars, back in the 17th and 18th centuries led to what? Working these machines just tried to destroy, not to create a competitor," – said Medvedev, speaking at the plenary session of the Moscow international forum "Open innovations".
"But over the four centuries since the industrial revolution, machines could not displace people. And in all likelihood, will not be able to do it. But a few years ago we experienced the same fears we discussed in our forum, what will happen. No one can give any guarantees on employment", he added.
Medvedev noted that today scientists predict an appearance in the next two years, 133 million new jobs instead of vanishing traditional 75 million. "So this is some optimism. And this confidence is based on the processes in the labour market that we see today. What happens in the whole world", – said the Prime Minister.
According to Medvedev, today the world has about 2.5 million robots, but mostly in individual countries, which are technologically and financially prepared, for example, South Korea, Germany, Singapore.
"The level of employment in these countries is high, but nevertheless, we still need to prepare for a serious retraining of people. It is necessary to teach professionals who are able to work with automation technology with robots. And low-skilled labor, of course, he should move, eventually, to robots, and people should have a so-called "soft" skills, i.e. creative thinking, ability to solve problems and this is probably the biggest challenge," said Medvedev.
"This requires, in turn, changes in the education system. Base for this, if we talk about Russia, quite good. No wonder major technology companies, the giants such as Apple, Google, Huawei and several others, are fighting for our graduates, which will determine the face of the digital world", he concluded.
Moscow international forum for innovative development "Open innovations" held on 21-23 October at the innovation center "SKOLKOVO". RIA Novosti media group "Russia today" is the official news Agency of the forum.