Crypto News
The dominance of bitcoin for the first time since the beginning of August fell below 66%
The index of dominance of bitcoin on Thursday, October 24, for the first time since the beginning of August 2019 fell below 66%. Now the figure is 65.8 per cent of the material should be of service CoinMarketCap.
Prior to this, about the same level of index of dominance BTC was 2 August. Then began the increase of this index, the peak value which was observed on 5 September (70,7%).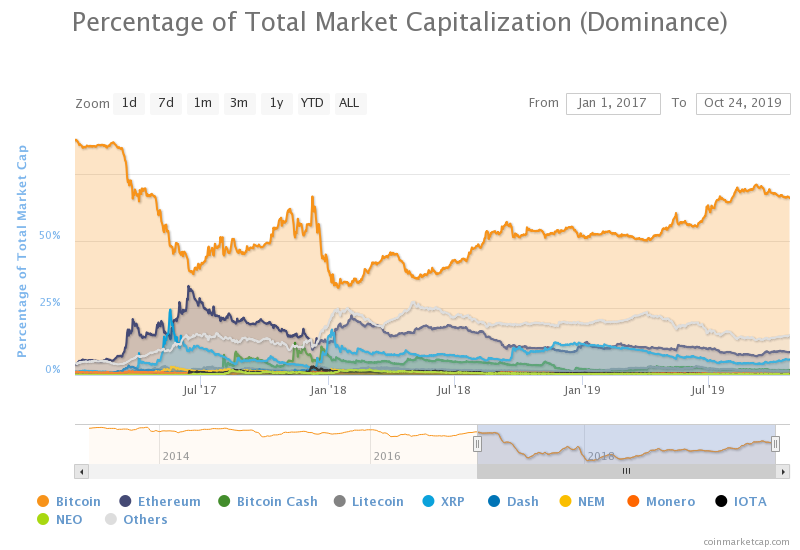 This drew the attention of a Twitter user by the alias Stats-Tec. He posted on his page in which he noted that the dominance of bitcoin since the end of August decreased by about 5%.
Trader under the name Cryptotoad also drew attention to the emerging downward trend movement of the index the dominance of BTC. However, the same expert believes that soon the situation will change for the better, and we will witness strengthening of positions of bitcoin on the market.
In the camp of the traders, not all share this point of view. Many, on the contrary, predict a further decrease in the index of dominance of the first cryptocurrencies. Not exclude such a variant in which the proportion of bitcoin transactions will fall below 45% in 2020.
Over the past two minimal figure of domination BTC was recorded January 13, 2018, then he was about to 32.6%. The rapid growth of this indicator has been observed since the beginning of may last year.