Auto
Here someone with gorochki has slipped… Bah! Yes this is again the Russian car market!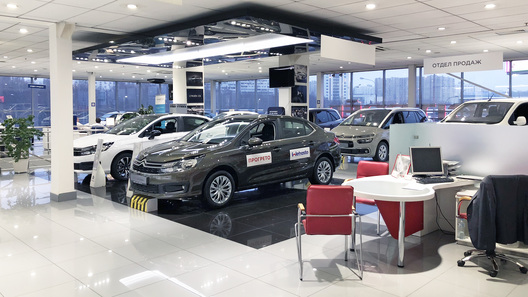 If stability, as is claimed, truly a sign of skill, the Russian new car market just possess the skill because of its stability: he consistently falls for the sixth month in a row, and any factors that are able this fall to reverse, stop or at least slow down, yet, alas, is not observed.
In October, Russia had sold 152 057 new cars, which is 5.2% lower than last year, and during the past ten months of 2019 were sold 1 423 449 new cars, which is 2.4% less than in the same period of 2018 – these data are contained in the next report of the Association of European businesses (AEB).
The sales leader remains Lada in October, has sold 30 of 237 cars of this brand, however this was 6% less than in October last year, when buyers left 32 005 VAZ cars. Then, too, everything is stable: 20 141 sold Kia has kept this brand in second place, even when falling 4%, as the third line left for related Hyundai organization to take 15 827 machines, but was able to stay at last year's level.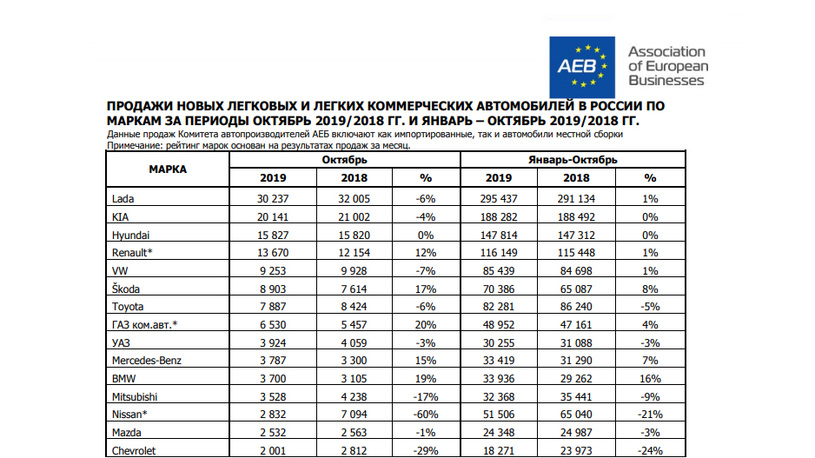 The fourth and fifth position is still the same Renault (13 670 copies, with commendable sales growth of 12%) and Volkswagen (9253 copies, -7%).
Much more fun things with the purchase of much more expensive cars. Then best of all feels BMW – its sales jumped by 19.2% due to sold 3700 cars. Not far behind, and fans of three-prong stars: they acquired 3787 cars Mercedes-Benz, providing a growth of 14.8%, and almost the same in dynamics succeeded mark Porsche (579 copies, +14.4 per cent), but these German manufacturers ahead of the Swedes from Volvo, sold in Russia in October, 844 vehicles, which is 15.9% more than the year before.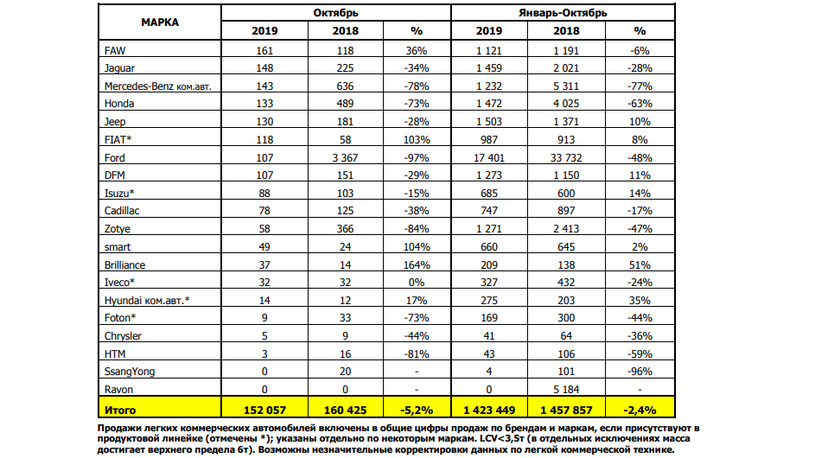 "Sales in October was below last year's 5.2%, which consolidated the market in the way of a slow but continuous erosion so needed now as the sales growth achieved in 2017-2018. of Course, this is not the direction that I want to see in the industry, but it is difficult to tell where may come changes for the better in the near future" — that bleak commentary accompanied the report, Chairman of the AEB automobile manufacturers Committee Joerg Schreiber.