World
Named the trump condition to meet Zelensky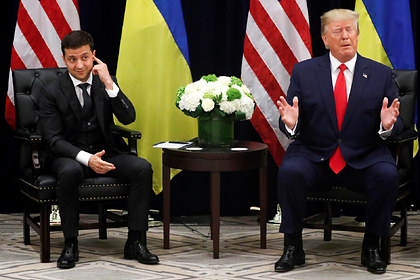 The President of the United States Donald trump allegedly demanded from the Ukrainian authorities to launch an investigation against the former Vice-President of the USA Joe Biden and his son hunter in exchange for the opportunity to meet him. This was at the hearings in Congress, said the permanent representative of the United States in the EU Gordon Sandland. The transcript of his testimony publishes CNN.
Sandland believes that the proposed requirement of the American President to investigate the activities of his political rivals in Ukraine due to suspension of American military assistance to the Ukrainian state.
He said that in conversations with representatives of Ukraine insisted on the "anti-corruption measures" as a precondition for further cooperation, not knowing that we are talking about it's Biden. According to the Ambassador, he came to the conclusion about the conditions for Ukraine not one, but in the discussion with Senator Ronald Johnson, the chargé d'affaires of the USA in Ukraine William Taylor.
The White house has considered that these statements do not prove anything, but rather prove the innocence of the President. "Whatever it is unworthy of headlines in the media, clearly trying to influence public opinion, will not be able to change the fact that the President did nothing wrong," reads the statement by the press Secretary of the President Stephanie Grisham.
Sandland is one of the main witnesses in the hearings on the impeachment of the current U.S. President. They were initiated by representatives of the US Democratic party: they claim that in a telephone conversation with Ukrainian President Vladimir Zelensky trump was pressuring Ukrainian counterpart to get the dirt on Joe Biden, which is considered his most promising opponent in the elections in 2020. The President called the procedure a coup attempt.