Science
The cause of the death of Alexander the great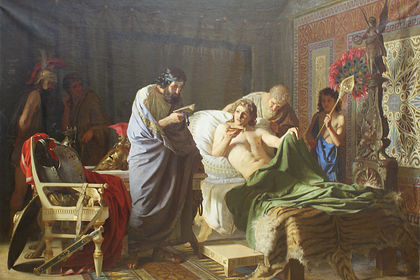 Alexander the great died as a result of acute necrotizing pancreatitis — a severe form of disease of the pancreas. About it reports the edition Greek Reporters, citing scientists from the University of Aristotle in Greece.
"The beginning of symptoms characterized by severe pain in the stomach after a heavy meal and wine, accompanied by fever and progressive deterioration daily for fourteen days," — explained in the study by Greek scientists.
According to the author of the study, honorary Professor of medicine, Dr. Thomas Gerasimidis, Alexander the great began the sepsis — an inflammatory reaction in response to acute pancreatic necrosis. This disease developed it on the background of gallstone disease and addiction to alcohol and heavy food.
Scientists made this conclusion after analyzing ancient historians described the last days of the Macedonian king and the symptoms of his illness. The researchers have rejected the old version of the death of the Macedonian king, it was expected that he could die from malaria, pneumonia, typhoid fever or West Nile fever. Scientists have studied this issue since 1995.
Alexander the Great was a Macedonian king from 336 to 323 BC. During his short reign he founded 70 cities and conquered the Persian Empire. He died in Babylon and was said to have been buried in Egypt, but his burial place was never found. After the death of Alexander, his Empire quickly disintegrated.