Animals
Alien monsters of the deep: a seaman from Murmansk continues to frighten social networks photos of the fish
It's easy to forget that beneath us there is a real deep sea world is a mysterious ecosystem in the deep ocean, studied person by only 0.5 percent. It was there that inhabit the monsters that came like nightmares. They will have to think twice before you get to swim, though these creatures are found far from the water surface.
I hope fear you made enough. So, creepy Twitter and instagram ordinary seaman from Murmansk Novel Fedortsova a year filled with new creatures from the blue depths.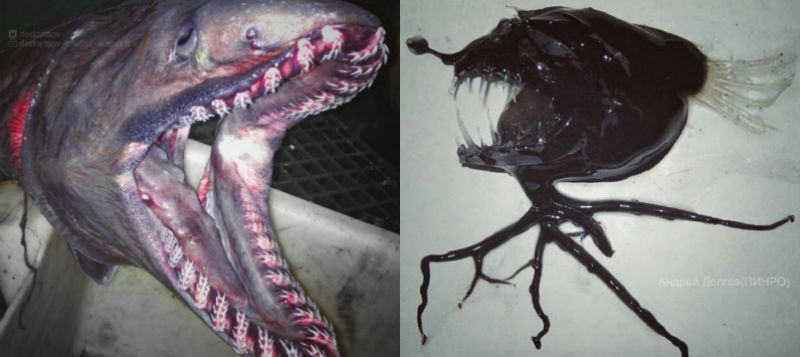 Fedortsov floats on a fishing trawler in the Barents sea. And fantastic creatures, pictures of which he puts, live in the so-called twilight zone of the ocean (zone of attenuation of sunlight).
"Grenadier delicious, but initially, just raised from the depths, looks alien. Therefore, in the stores and sold without a head and a rat's tail."
This area is located at depths of 200 to 1,000 meters under water and is called the mesopelagic zone. Below that is the realm of absolute darkness under the name of "bathyal zone" is from 1 to 4 thousand meters of depth.
The inhabitants of these depths have the appearance of frightening and fantastic, a reminiscent of the aliens. Don't forget that at this depth is incredibly high pressure and, when the fish caught by the trawler, get to the surface, its body may be deformed because of the pressure drop.
Beloved halibut.
"An angler. Commonly called "bearded sea devil". It's a girl. Males are significantly less."
Skate shypohvostyy doesn't approve of.
Perhaps glowing shark.
Catfish.
Perhaps black PACU.
My new photo of #frilledshark pic.twitter.com/PaGQVB8gpj

— Роман Федорцов (@rfedortsov) December 2, 2017
The frilled shark.
Catfish.
Golden sea worm.
"Cymothoa exigua, also called the "woodlouse-eating language". The parasite enters through the gills and attaches to the base of the tongue. He sucks the blood using the claws in its front part, which leads to atrophy of the tongue due to lack of blood. The parasite then replaces the fish tongue by attaching its own body to the muscles of the stump of the tongue. The fish can use the parasite as well as normal language. It is currently believed that C. exigua are safe for humans, but there is a danger of being bitten if caught alive parasite".
Pinagor.
Smiling hungry monkfish.
"You have already seen "Alien: Covenant"? And this is my marine version".