Science
Scientists have discovered how the parasites are protected from the owner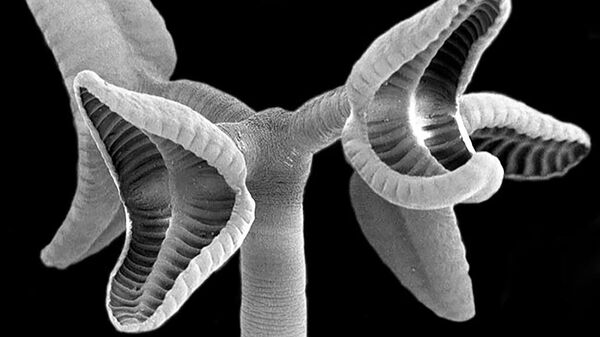 Scientists of Tyumen state University in cooperation with their Russian counterparts identified and described previously unknown proteins tapeworms that protect parasites of the digestive system of the host and weaken the immune system, reported the press service of the University.
Tapeworms (cestodes) — numerous class of parasitic flatworms. Adults inhabit the intestine of vertebrates within life follow several owners and sometimes pose a serious threat to humans and animals.
The parasitic lifestyle of worms has led to the complete loss of the digestive system, the emergence of a developed reproductive system and special organs for attachment to the host tissues. It also became necessary to defend against digestive enzymes, including trypsin, which cleaves proteins and peptides and also has the ability to carry out the hydrolysis of esters.
Candidate of chemical Sciences, the employee of TSU, Evgeny Rogozhin, said that work on the biochemistry of tapeworms is small, and molecular diversity has been insufficiently studied. The study of proteins that block the action of digestive enzymes — inhibitors, secreted roundworms include many species of these parasites.
"In the study of cestodes focused on Canam and tapeworm because of their danger to humans and Pets. Other types are not considered, the substance responsible for the process inhibition, and the mechanism of their action is still not been known," he said.
Scientists studied parasites species of Triaenophorus nodulosus that cause freshwater fish threat disease — triaenophorus (liver and intestines). In the study, it was discovered two not previously described polypeptide with a mass of about 14.4 kilodalton with different terminal amino acid residues.
The search for homologous sequences revealed that the isolated peptides belong to the individual inhibitors of trypsin — type proteins Konitza. They are found both in vertebrates and invertebrates.
Scientists have found that, in addition to inhibitory activity, these proteins participate in blood coagulation and in inflammatory processes. Proteins of this type have previously been isolated from other species of worms. Besides protection from digestive enzymes, they participated in the weakening of the immune system of the host.
The study also involved the Institute of biology of inner waters named after I. D. Papanin Russian Academy of Sciences, Institute of Bioorganic chemistry named after academicians M. M. Shemyakin and Y. A. Ovchinnikov Russian Academy of Sciences, research institutes to find new antibiotics named after G. F. gauze, Institute of systematics and ecology of animals SB RAS.