Auto
Monster truck Tesla Cybertruck will go to serve in the police of Dubai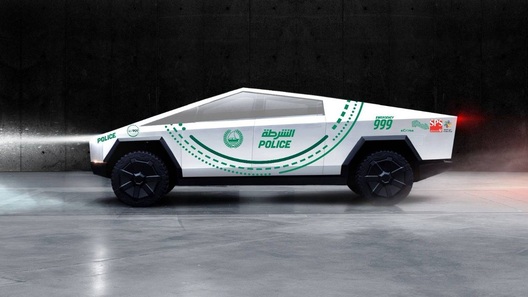 "Cybertrek" from California has become the most discussed novelty of this autumn – largely due to its exotic design, reminiscent of the movie "blade Runner". The UAE came up with the most suitable pick-up appointment: he will be a police patrol car.
It is not excluded that played a role and promise of Tesla to provide bullet-proof truck body panels, although the duties of a pickup truck in the UAE will be the most peaceful.
According to the official statement of the representatives of the local police Department Cybertruck sent to patrol areas where accumulates the largest number of tourists. Obviously, the authorities of the Emirate intend to demonstrate their attention to the new developments. And already even it is known as a police "Cybertrek" will look like: tweet of the law enforcement bodies of Dubai posted a picture of him with symbolically inflicted on the patrol livery. Given that the sides of the truck completely flat, too much trouble this process is not delivered.
Moreover, in Dubai, may know something not told to the public. In the same post says that Tesla Cybertruck will fall into the arms of local law enforcement in the next year, although the Elon Musk announced the start of production of pickup only in 2021-m, and the first on the conveyor will send the weakest version.
It is unlikely, given the predilection of the Dubai police supercars are very expensive, they are limited to single-engine modification "of Cybertrek". Rather, the Department ordered the most powerful version with three electric motors that can catapult to 100 km/h in about 3 seconds. And are pickups, according to the official schedule, will begin to collect only in 2022. Maybe for Dubai in Tesla will make a special copy?