Science
Scientists found out why cancer immunotherapy is not always effective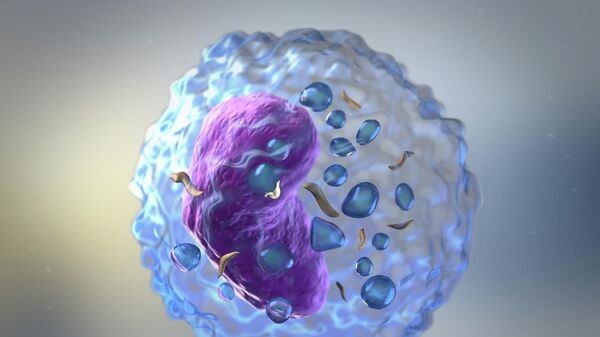 Scientists have found that T-lymphocytes-killers, protected from the ravages of proteins, which they secrete to combat viruses and cancer cells, due to the special physical properties of its shell. The study is published in the journal Nature Communications.
Cytotoxic T lymphocytes (CTL) or white blood cells — the main component of antiviral immunity. It is the killer cells that come in direct contact with the infected with viruses and cancer cells and destroy them.
To break the cytoplasmic membrane wrapper of harmful cells, lymphocytes secrete special proteins called perforin that destroys the protection of target cells, and then through the resulting pore is introduced inside the poisonous enzymes. Until now, scientists wondered how the shell themselves of white blood cells, also in contact with perforin, remains intact.
Australian and British scientists under the leadership of Ilya Voskoboynikov (Ilia Voskoboinik) from the University of Melbourne found that the protective properties of the membrane that surrounds white blood cells, due to its physical properties — molecular order and electrical charge.
In the first phase of the study, the researchers found that perforin, the protein responsible for punching holes in the protective cover, not all the cells attached equally. It depends on the location of the lipids in the membrane: the higher molecular order and tighter packing, the lower bound on the cell surface perforin.
Indeed, when biologists artificially violated the order of lipids in the membrane of lymphocytes, the cells became more sensitive to perforin — he partially began to stick to the surface, but still could not break through her pores, indicating that there is another level of protection. They found some negative charge of lipid molecules on the cell surface that bound perforin and blocked it.
"It is remarkable that they can do this many times in a row without hurting yourself. Now we know that effectively prevents loss of white blood cells every time they kill one of their goals," presented in a press release, University College London the words of one of the authors of the research Professor Bart Hoogenboom (Bart W. Hoogenboom).
"Long known that the local order of the lipid changes in the process of interactions between cells, but it was surprising to find that protection from a molecular "hole" also depends on the physical properties of the membrane," says Adrian Hodel (Adrian W. Hodel), which in this study was responsible for the screening of membrane systems.
The authors plan to continue research and to find out whether cancer cells use a similar defense to avoid death from immune cells. This could explain why some tumors exhibit resistance to anti-cancer immunotherapy.