Crypto News
Forecast: Bitcoin in December threatens to roll back $6000
In the beginning of the new week bitcoin is still trying to hold above $7000, but among traders strengthens the position of those who bet on the imminent weakening of the coins below this level.
At the time of publishing this review, BTC was trading around $7269, market Capitalizati cryptocurrency exceeds $131,408 billion.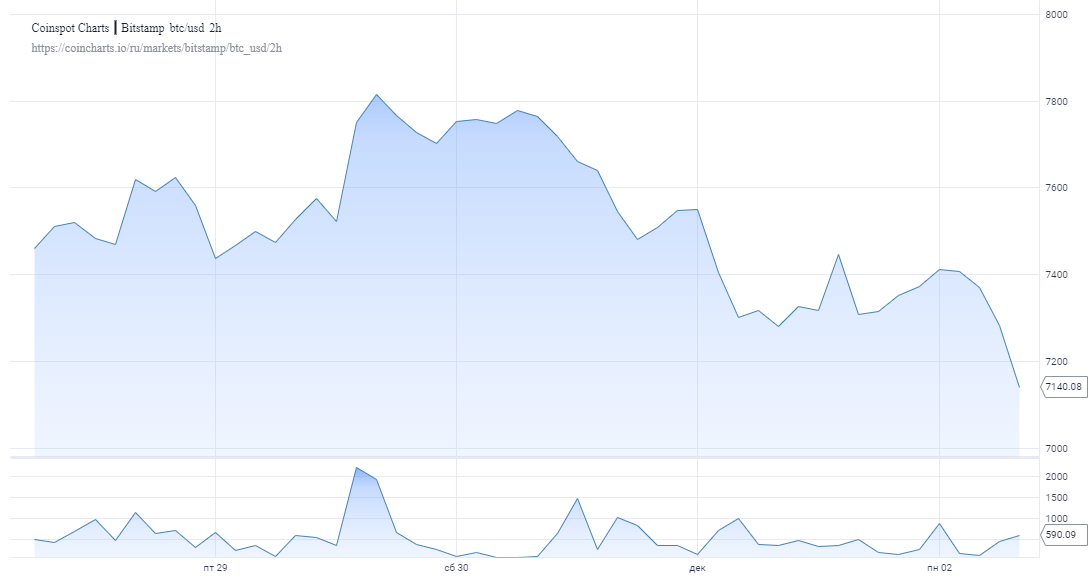 We will remind, at the end of last week bitcoin was the opportunity to test the level of $8000. On Friday, the coin jumped to $7812, but at this level, the potential to save the rising dynamics of movement have been exhausted.
If you look at the graph of the movement of bitcoin, we can see how gaining momentum "bearish trend" for the past two days. On December 2 BTC is trading below $7200 on some cryptocurrency exchanges.
Trader under the name of Byzantine General posted on Twitter in which he predicted a continuing trend of the weakening of the exchange rate of bitcoin. This expert allows for the reduction of BTC below $6000.
Another pessimistic analyst CryptoThies. He also believes that we will not be able to avoid further fall in the value of bitcoin. Sales skyrocket in December, will update minima, CryptoThies said, citing data from the indicator MarketGod.