Auto
In mladá Boleslav, rolled off the first copy of new "Octavia"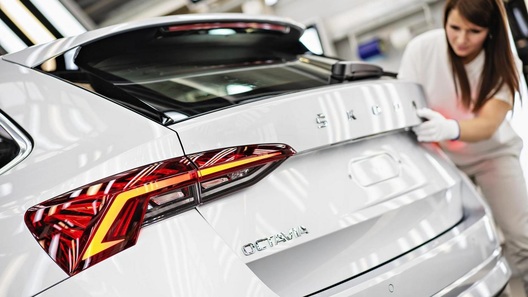 And that, surprisingly, the station wagon: Skoda believe that the "shed" version of the Skoda Octavia in Europe differ almost twice as successful liftbek. Although more familiar to Russians version of "Octavia" also has an outstanding popularity.
Skoda has already promised to release the key for the brand, the model will be impressive amounts: it is planned that in day, the plant in mladá Boleslav will be able to collect up to 1, 150 copies of the "Octavia" of the new generation. Apparently, the manufacturer expects heavy demand for a novelty in Europe.
The launch of Skoda Octavia Assembly in other plants of the company scattered around the world, not yet reported, but there is no doubt that sooner or later the start will be given there. Over the years of production of the Octavia has sold about 6.5 million copies, which automatically makes it one of the leaders in its segment. And Skoda obviously intend this status to maintain.
At this time, primarily due to high technologies: the new Octavia has become the most "Packed" representative of the family in history. She got, for example, digital instrument panel, multimedia system, head-up display, numerous touch panels, hybrid power plant and so on.
As for the Russian market, the plant in Nizhny Novgorod will be one more enterprise among the plants, which will be mastered the production of the model. True, it will happen soon: the start of sales of "Octavia" in our country, is slated for the fourth quarter of next year.