World
In Slovakia filed a case after a gas explosion in a residential building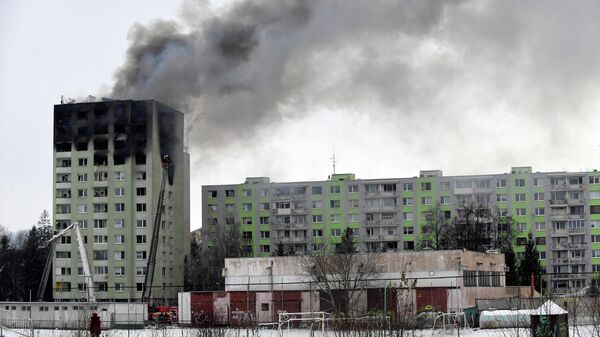 The police in the Slovak Republic brought charges against three people in the case of a gas explosion in a residential building in the city of prešov, which killed at least seven people, said the representative of the regional police of Presov Igor Pavlik.
On Friday, in top of 12-storey residential building in prešov there was a gas explosion, after which there was a fire and the house partially collapsed. Police have confirmed the death of seven people, and about forty wounded, the fate of one remains unknown.
"In connection with the explosion in a residential building in Presov, resulting in the loss of life on Saturday were detained six people. On Sunday, the investigator brought against three of them criminal case," said Pavlik. According to him, more detailed information will be provided to journalists later. Speech Pavlik broadcast network TV channels.
A day earlier, on Saturday, the management of the Republican police reported on its website about the arrest of six people, responsible for produced in the house in recent renovations.
In turn, the head of the fire service in Presov region Golias Yan told reporters that the fate of one inhabitant of the house is still unknown, his body was never found either on upper floors or under debris on the ground.
"As for the repairs, which were conducted in this house in recent times, including internal alterations, the firefighters refused to accept them. There was broken a precept that could eventually lead to the collapse of the stairs, and in the result, there was delay in evacuating people during a fire. It is the result of self-will of owners of the house," said Golias.
Golias showed journalists a document audit of the condition of the house from 2017, which lists produced in-house repairs made without taking into account the requirements of safety regulations including ventilation, Elevator shafts, and access to fire stairs.
"A dispute about this between the fire Department and the owners of the house lasted more than two years", – said Golias, whose performance was broadcast the network TV channels.
In addition, the local media reported that during renovations the house was built, own gas boiler.
After a detailed examination of the condition of the building damaged in Sunday the decision was made to complete the demolition, said Golias.