World
Haftar ordered to sink Turkish ships, said the commander of the Navy of the LNA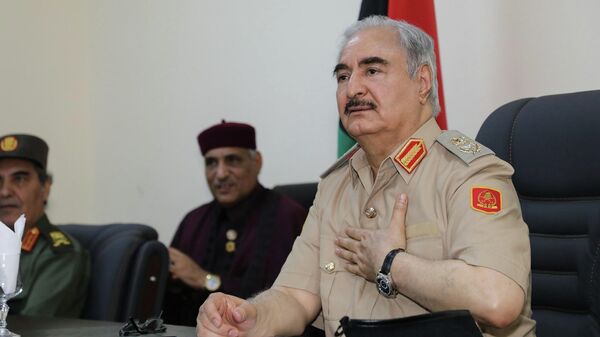 The commander of the Libyan national army, Marshal Khalifa Haftar ordered to sink Turkish ships, said the commander of the Navy Admiral of Libya Faraj he decorated the Greek TV channel Skai.
The authorities of the Eastern part of Libya is considered an illegal national consensus government in Tripoli and considered illegal Memorandum on Maritime zones, was signed by Turkey and the government of national consensus. This Treaty, according to Greece violates its sovereign rights. After signing the Memorandum, Greece expelled the Ambassador of Libya and began to strengthen ties with Marshal Haftarot.
"We have ordered the commander of the army to heat (Turkish ships), there is no other choice," the Admiral said he decorated the TV channel.
He decorated he studied at the naval school in Greece from 1973 to 1978 and since then has close ties with Greece, notes the channel.
The commander of the Libyan Navy also said that the seizure of Tripoli a matter of days. "In a few days we will enter Tripoli. And when we enter, (the Chairman of the national consensus government Fayez) Sarraj leave Libya, and this agreement (with Turkey) will not work", – said the Admiral.
As noted by Skai, the army of the Haftarah, which is three kilometers from Tripoli, and a government that signed an agreement with Turkey, the risk of losing his last stronghold, while his opponents are constantly building up their forces.
Supporters of the Haftarot accused Turkey that it sends weapons to Tripoli, violating the UN sanctions regime.
President Recep Tayyip Erdogan and the head of the national consensus government of Libya Fayez Sarraj controlling only part of the country, in late November, signed a Memorandum of cooperation in the military sphere and on mutual understanding on Maritime zones. Turkey has published a map of Maritime zones "considering the Turkish-Libyan Memorandum". Turkey does not recognize the right on the shelf for the Greek Islands.
Greece believes that Turkey is trying to assign a significant part of the Greek exclusive economic zone, despite the fact that Athens and Ankara have agreed on the boundaries of the EEZ.