Science
At the center Grabar patched "fish" Bathrobe that belonged to the warrior disappeared people
The restoration of a unique piece of antiquity — men's festive robe of the Ainu people, is completely made of fish skin, — concluded the experts of all-Russian art scientific and restoration center them. I. E. Grabar and restorer of Primorsky state Museum named. Arsenyev.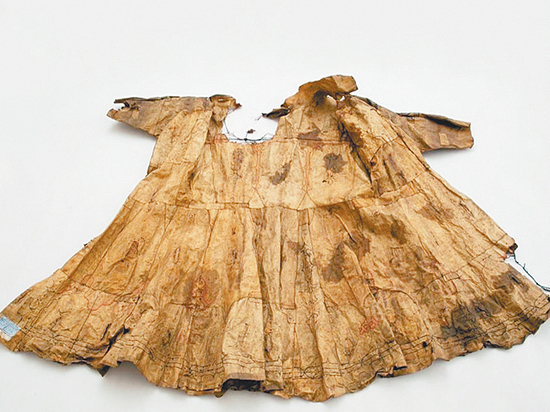 Ainu — indigenous people who once inhabited the several districts of Primorye, Sakhalin, the Kuril Islands, Kamchatka and Japan. Being, European eyes, the Ainu differed from neighboring peoples of Mongoloid type. Their main occupations were hunting and fishing.
As reported by "MK" in the workshop of restoration of the skin and archaeological textiles, robe with ornaments and embroidery, Dating from the late nineteenth century until recently was preserved at a seaside Museum in Vladivostok. By the way, in Russia there are only two such pieces (the second is in the Hermitage). Sewn from pieces of fish skin, the robe miraculously crumbled from excessive overdrying and deformation. Besides, it was missing several pieces: the back, the collar and on one of the floors.
In Moscow, where they brought the product, "fish" robe, which fit our 46 to 48-th size, first slightly alleviated by a method of a remote steam. After the plasticizing process continued with rubbing the fish skin with special wax lubrication of their own making.
As for the patches on the remaining parts of the gown, it was decided to make pork skin, which was most similar to fish.