Science
The scientist explained "mysticism" with the Chelyabinsk meteorite
The incident at the State historical Museum of the southern Urals, where on Saturday in the hall of nature and ancient history spontaneously rose glass dome of the exhibit-a meteorite, has caused a mixed reaction in the Network. Someone saw the incident poltergeist, some manifestation of some kind of cosmic energy. "MK" asked a scientist to comment on the situation.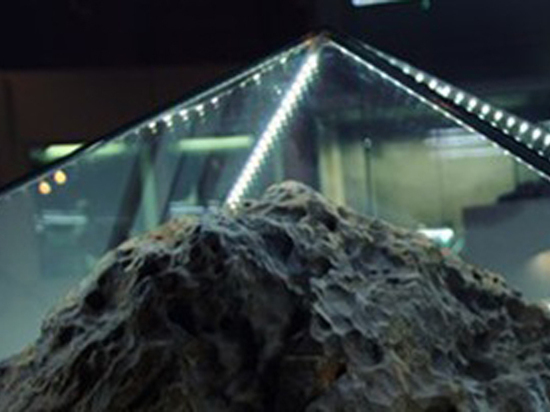 State of emergency in Chelyabinsk Museum took place on Saturday, December 14 at 15.30 local time. Already at 16.00 was the act of an unexplainable phenomenon that caused the alarm is triggered. Witnesses were the officer on duty, caretaker, security guard and electrician. The latter, incidentally, using the ELECTROPULT immediately restored Museum status quo, returning heavy glass dome in place.
In the act to the chief custodian of the Museum said: "All the exhibits in the same place. No damage of the meteorite and the other pieces in the showcase is not detected".
The Network press-Secretary of the Museum Aivar shaft did not fail to point out that "to raise a dome over the meteorite is complex". The operation involved four motor. Design heavy. There is an alarm.
"And never been to the dome took and so he rose" – wrote press Secretary. It whether seriously, or in jest tied the manifested energy of the meteorite that recently over the region were flying a meteor twin of a Museum exhibit.
Valeev, by the way, wrote that "aunt-matron in mild shock until now".
It turns out that the South Ural meteorite have fans-fans which are periodically visited by him. In the summer some of them even staged ritual dances.
Now, I suppose, like dancing around the messenger space will be even greater.
In the Network immediately by a meteorite with a movable dome called "life-giving" and foretold an excessive interest in the Museum and meteorite.
There was, however, more realistic comments. For example, Oleg Rokotov wrote: "I Hope you will invite a technical specialist, maybe some problem with the mechanism?".
That said, the "MK" Professor of the Ural Federal University (Ekaterinburg, Russia) Viktor Grokhovsky:
In my opinion, the explanation is perfectly simple. In the information that is there, there is your answer. Lower the dome had with the remote. I think that raised the dome was also using the remote.
That is, for unknown reasons, joined the panel and lift mechanism. Maybe circuit. No miracles there can be no longer.
-That is anti-gravity not exist?
-No, of course. Employees needed to clean. It was necessary to write the act because they occurred without lifting sanctions. Somehow, by turn on the lifts, no other reason, I think, no. I am a hard materialist.