Auto
In the USA a pickup truck crashed through the walls of the airport and into the terminal (creepy video)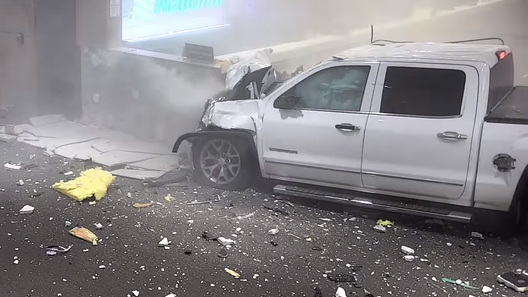 A tragicomic incident was over in Florida a police pursuit of a pickup truck, at the wheel which there was a local Juan Monsivais. Literally loud the final persecution almost blocked the work of the international airport of Sarasota.
In the night of Thursday, one of the police patrols Florida's noticed a pickup truck brand GMC, moving down the road at high speed and quite dangerous. Trying to stop him were unsuccessful, and police began the pursuit. The driver of a pickup truck some time went on the chase, and then, after breaking the fence of the airport Sarasota-Bradenton hit a wall of one of the terminals.
It's hard to believe, but the speed was so great that the truck literally broke in, once inside the baggage claim area. By happy coincidence, none of the people inside was not damaged: as stated edition of the Tampa Bay Times in the administration of the airport, the expected flight landed 20 minutes early, so passengers have time to disperse.
However, the heavy truck was significantly damaged one of the belt conveyors of the baggage claim at the airport, estimate the damages at $ 250 thousand. Were injured in the collision and the driver. Juan Monsivais was hospitalized with serious injuries, while no one can say whether he was wearing a seat belt during the accident.
According to local police, Monselice has a serious track record: he was repeatedly denied the right of driving, and was also accused of illegal possession of weapons, assault on police and possession of drugs. Whether Monsivais under the influence of any substances during the chase and subsequent crash, is not specified.