Crypto News
LTC is stuck at $50 if the coin rise with bitcoin?
At the end of last week, the litecoin made the leap, jumped in price by about 10%.
The ascent coins began on January 9. At $44 LTC could for two days to grow to $51. Last time at this level litecoin was at the end of November, after which he entered into a long bearish phase, which led to his fall of December 17 to $36.
Then within two weeks altcon fought with the resistance, trying to return to values above $45.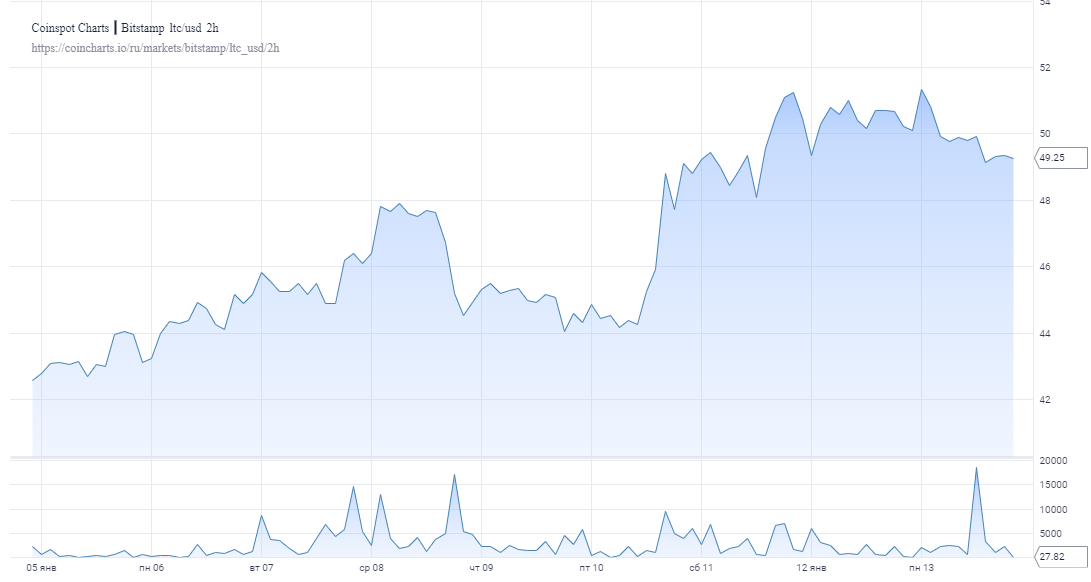 Strengthening began in the first days of January 2020, when the background of the aggravation of the international situation in the capital began to come to cryptosphere. LTC "shot" with bitcoin, but above $51 to rise but could not.
In the night of Tuesday, January 14, platform Bitstamp LTC is holding around $49. The market capitalization of litecoin is now just over $3,178 billion.
Despite the fact that litecoin has finished the year in negative territory, many of the "whales" and Hodler didn't sold their coins. It says that they are optimistic and believe in the imminent return of the rally. According to recent data, about 40 million litecoin will not move during the year. All in all, it produced 63 million coins.
According to Franklin Richards, representing the resource Litecoin.com investors have kept the market from falling further, refusing to sell their LTC.
The trajectory of litecoin is highly dependent on the behavior of bitcoin. In anticipation of the reduction in the reward of the bitcoin miners in may 2020 or so-called halving many traders expect a breakthrough of the first cryptocurrencies. In this regard, it is also expected to jump in litecoin, which is why its holders do not sell coins now.