Auto
Toyota Takoma pickup truck turned into one of the wildest drift cars in the world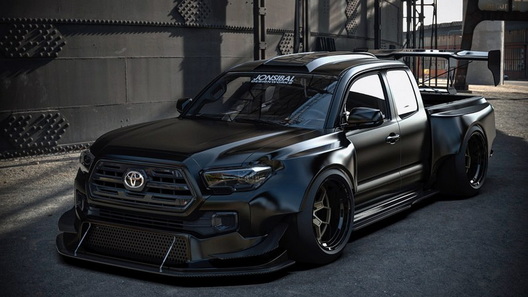 Pick-up in the role of a supercar, able to "deal corner" is old news thanks to the famous Ken Block. But built in California extreme option Toyota Tacoma is designed, apparently, not for show, but for the harsh battle on actual tracks.
The project Manager was made by brad Deberti show TwinTurbos on the Discovery channel, and in the construction he was assisted by a team of Toyota Racing Development – although, strictly speaking, from a Toyota pickup truck with a simple name Performance Truck is very short.
More specifically, the passenger capsule and the front part of the superstructure of the body – everything else, including the frame, suspension and engine, either made themselves or borrowed from unexpected sources. Made from scratch, say, a cargo bar, which you can't carry Luggage, and body panels, including the radically flared wheel arches and aerodynamic body kit with a giant wing.
The most eye-catching element of the design of the truck can be called, perhaps, an impressive air intake on the roof that pulls air directly into the body. According to some, it serves to cool the fuel system. And in the movement of this wild truck is a TRD eight-cylinder motor, borrowed from the car racing series NASCAR: according to rumors, the motor is able to develop up to 900 HP
It is curious that the construction of the pickup of the participants of the project took only three months. Where exactly it will be is still unknown, but already there are active rumors that the Performance Truck will get a virtual avatar in the video game Forza Horizon 4.