World
Serbian Deputy said about the anti-Russian hysteria in Europe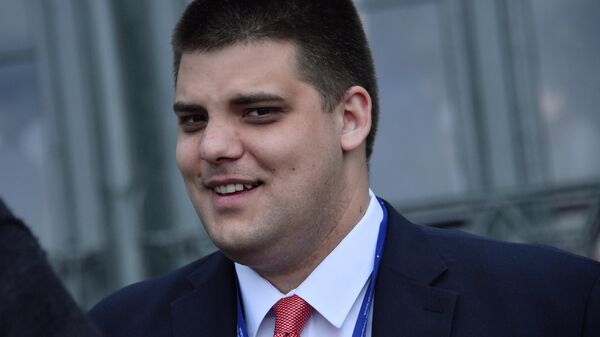 Europe is now in a state of anti-Russian hysteria, but Serbia will never take a stand against her ally, Russia, said the Deputy of the national Assembly of Serbia Alexander Seselj.
"This year we celebrate the 75th anniversary of the great victory in world war II. Free Nations defeated fascism and tyranny in the largest war in the history of mankind. The winners then had thought that Europe would never die… And what is happening today? We are seeing a Renaissance of fascism in Europe," said Seselj, speaking at the international conference "Yalta 1945: Lessons of history". As an example he cited the situation in Ukraine after the coup in 2014.
"In this way both Croatia and Montenegro. In Europe today there is anti-Russian hysteria. The West is anti-Russian campaign and wants to make Russia the enemy. How to explain that the Russian President was not invited to the ceremony devoted to the beginning of the Second world war in Poland?" the MP said.
He added that in the Soviet Union killed more than 20 million people, "the Europe of today was free." "Russia was never an enemy for Europe. Russia is a European country that so many gave Europe its history and culture, and its liberation," said Seselj.
According to him, after the revolution of 5 October 2000, the West pressured Serbia to separate from Russia, its traditional and historic ally. "But Serbia will never stand up to his ally, the Russian Federation", – concluded the representative of Serbia.
International conference "Yalta 1945: Lessons of history" was held 13-14 February at the Livadia Palace, where the assembled leaders of the Soviet Union, the United States and Britain.
Politicians and public figures point out that the Yalta conference was a high point of cooperation of the leading States of the anti-Hitler coalition, United by a common goal of achieving a speedy victory over the world's main evil of Hitler's Nazism.
With this in mind, the leaders of the "Big three" met in Yalta, were able, despite the odds, to rise above ideological and geopolitical contradictions and to find solutions that not only bring the overall victory, but also laid the foundations of the postwar world order.