World
Putin and Erdogan agreed on the ceasefire in Idlib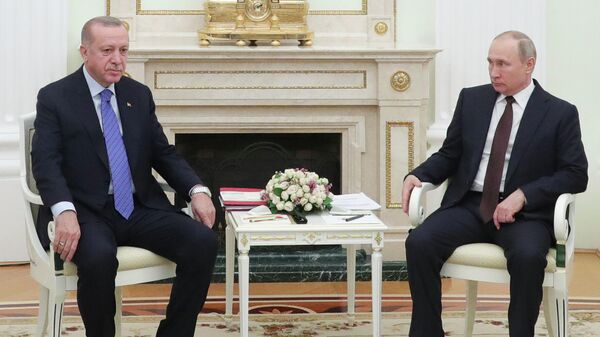 The presidents of Russia and Turkey Vladimir Putin and Recep Tayyip Erdogan in the six-hour talks agreed on a ceasefire in the Syrian province of Idlib.
The draft agreement was announced by the foreign Ministers of the two countries.
Fighting in the area of de-escalation of Idlib must cease from midnight on 6 March. In addition, Moscow and Ankara will organize a safe corridor from highway M-4 with a length of six kilometers to the North and South of it, and March 15 in the area will begin joint patrols.
Turkey and Russia also reaffirmed their commitment to previously signed agreements — on the establishment of a de-escalation from 2017 and Sochi the Memorandum of 2018.
Moscow and Ankara also noted the determination to combat all manifestations of terrorism that cannot be justified under any pretext. The parties agreed that the conflict in Syria has no military solution, and confirm commitment to the sovereignty of the SAR.
Points of contact
The Russian President thanked the Turkish counterpart for his decision to come to Moscow and "to confirm our relationship."
Putin also noted that Moscow does not always agree with Ankara's assessments of what is happening in Syria, but in critical moments countries managed to find common ground.
In addition, the Russian leader stressed that it is impossible to prevent the weakening of the fight against terrorism. He added that Russia and Turkey are interested in the preservation of Astana format of the settlement of the conflict in Syria.
Right of reply
Turkey reserves the right to respond to the actions of government forces of Syria, said Erdogan after talks with Putin.
For that, Turkey has already sent in Idlib extra strength.
Erdogan promised that Ankara is "committed to assist Syrian refugees in returning home."
The escalation in Idlib
The situation in Syria escalated on February 27 when the terrorists are in control of the territory of the province of Syria, attacked the troops of the SAR. The Syrian government army returned fire, killing 36 of the Turkish military who were advancing in the ranks of the militants.