Crypto News
Bitcoin has returned to values above $8000: for how Long?
After the shock of the fall earlier in the week, bitcoin managed to pull one back in the second half of the day on March 10.
On the crypto currency exchange Bitstamp rate BTC rose from $7748 to $8063. It seems that investors began to calm down. At least, this is evidenced by not only the return of capital to cryptosphere, but the stabilization of the situation in the energy market.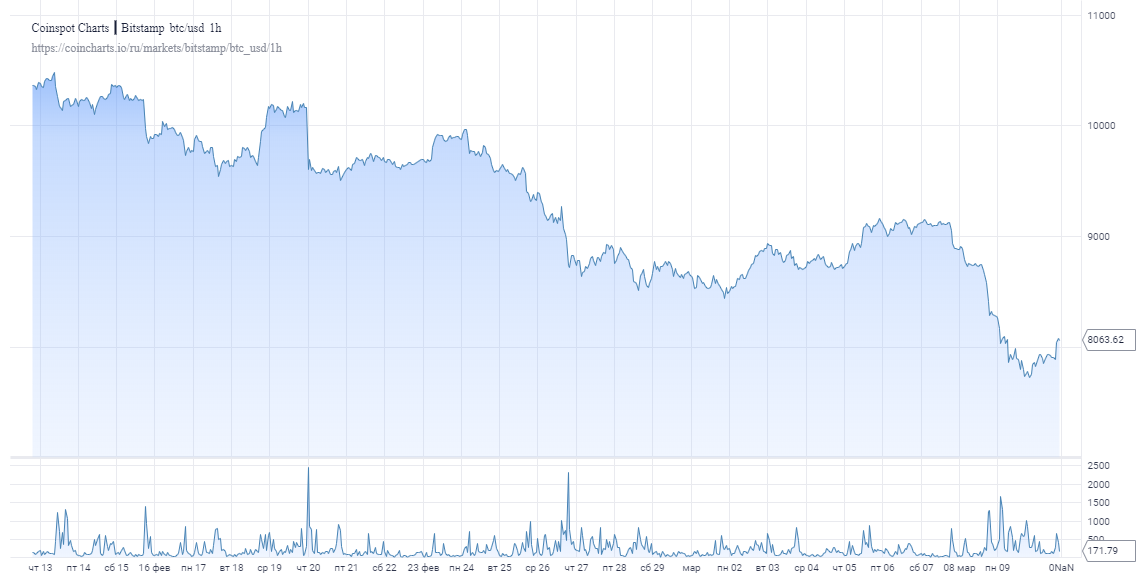 After the collapse of oil prices on the eve of hydrocarbons Tuesday, March 10, started to go up. According to recent reports, a barrel of Brent crude oil, after falling to $32 increased in price today to $37. Stock markets also recovered gradually, which is encouraging.
We will remind, partner Bitazu Capital never mind Serot commented on the fall of the stock market a statement that after this major pullback we will have to wait a long consolidation phase. Even if we see a small inflow of funds into bitcoin, still no breakthrough will not happen, as in the camp of traders is dominated by wait-and-see mood.
Analyst under the name PlanB wrote on Twitter that despite the drop in BTC is the first cryptocurrency is still on the way to a six figure score. Recall that this expert has repeatedly predicted that before the so-called may alvingham (reducing rewards miners) we will have to wait the rise of bitcoin to $100 000.