World
The whole of Italy – the red zone: getting around the country is limited due to coronavirus
ALL PHOTOS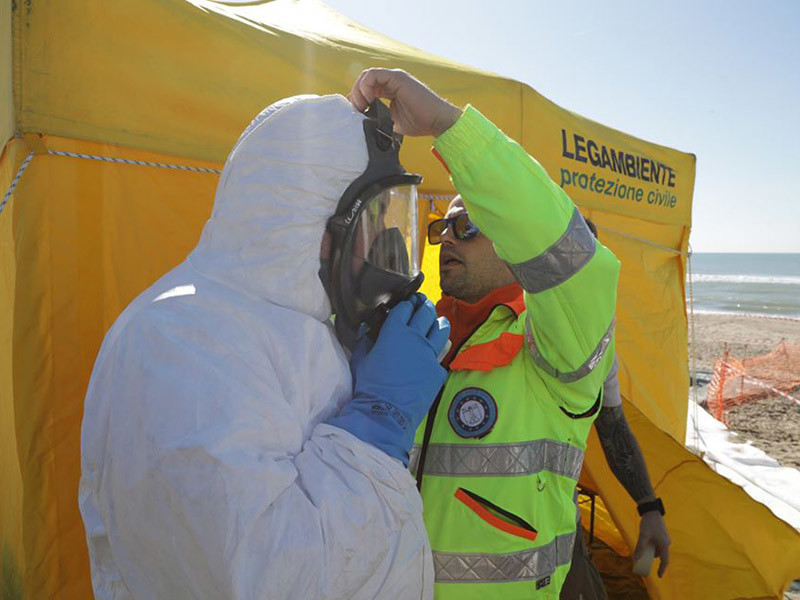 Italy, which became the focus of the spread of coronavirus in Europe, the world's first distributed the "red zone" all over the country to fight the infection. Before this regulation was in force only in the regions most affected by the disease.
The introduction of emergency measures means the abolition of all mass and sporting events, schools and universities are closed until the 3rd of April, limited movement around the country, told reporters the Prime Minister of Italy, Giuseppe Conte.
"There is no time. The numbers tell us about a significant increase in infected, the increasing number of deaths. We need to sacrifice something for the benefit of all of Italy. That is why we are taking more stringent measures", – quotes its words of the Corriere Della Serra.
Under the ban, in particular, gets a national football championship (series a), and movement in the country will be carried out only when necessary, "because of the work or in connection with health". For this you need to have the document proving the necessity of the trip. If you find that people have entered government in confusion about their goals, they face a fine or imprisonment. The new rules come into force on 10 March.
All residents are advised to call the doctor at home. In hospitals and clinics will be allowed only the elderly and those who need first aid. Bars and restaurants must close no later than 18:00 local time. Also prohibits discos, weddings and funerals. In public places people should stay from each other at a distance of at least meters.
"We are taking action, which I define as "I stay home". Recent data on incidence and deaths, as well as people in intensive care units indicate that it is time to change our habits. Everyone must give up something in the name of Italy", – said the Prime Minister. While the ban on leaving the country, as such, is not introduced.
Conte said that the departure of the Italians abroad is not restricted, but "will continue control of arriving in Italy." According to him, the restrictions do not affect public transport, "so that people can continue to get to work."
Bars and restaurants are only open until 6 PM and only if they can ensure that clients are at a distance of not less than one meter from each other. Businesses will close if the rules are not adhered to.
Spread in social networks photos and videos unusually deserted streets of Italian cities.
An empty St. Mark's Square in Venice, Italy, on Monday as Italian Premier Giuseppe Conte said he is restricting travel nationwide to try to stop the spread of the #coronavirus pic.twitter.com/P4WmIV4gMn

— Tony De Jonker (@TonyDeJonker) March 10, 2020
My sister lives in Venice, Italy. She sent these photos of the empty streets and canals. City is hit hard due to the #coronavirus. 1/ pic.twitter.com/91rhShXsDt

— 👽™️ (@ScottTrudell) March 5, 2020
Venice looks almost empty due to the widespread of the virus in Italy…#coronavirus #covid19 pic.twitter.com/0ZrOFbNHNM

— COVID-19 (@ABADDON53748074) March 9, 2020
A completely empty Piazza San Marco is seen on March 9, in #Venice, #Italy. PM #GiuseppeConte announced a "national emergency" due to the #coronavirus outbreak & imposed quarantines on the Lombardy and Veneto regions, which contain roughly a quarter of the country's population. pic.twitter.com/Yw8JGh9aQD

— Durgesh M (@Kumardk83) March 10, 2020
How empty #Rome looks like in the times of #Coronavirus: #Italy 🇮🇹❣️#COVID2019 #COVID19italiapic.twitter.com/v0ezK6OJxz

— Annett Grimm 📝 (@_AGrimm) March 9, 2020
Earlier it was announced the closure in Italy of all entertainment venues, sports clubs, beauty salons, as well as ski resorts. Throughout Italy closed cultural institutions. On March 9, according to the authorities, the country was ill 9 172, 463 died 724 recovered, 700 – are in serious condition.
Worldwide coronavirus infection (COVID-19) fell ill more than 110 thousand people, more than 3.8 thousand died, thousand 60 – recovered. Outbreaks began in the Chinese city of Wuhan (Hubei province) at the end of December 2019, Except in China, the most difficult situation with the disease was in Italy, South Korea, Iran, the cases of infection observed in more than 100 countries.