In 1997, a 41-year-old Muhammad Iwan from West Java, Indonesia just for $ 2 bought a newborn saltwater crocodile, which caught the fishermen. The kid he called Kojak and carried him home. Since then, the reptile is living in the family of Ivan and during that time managed to grow to a 200-kilo crocodile that lives in the pool in the backyard.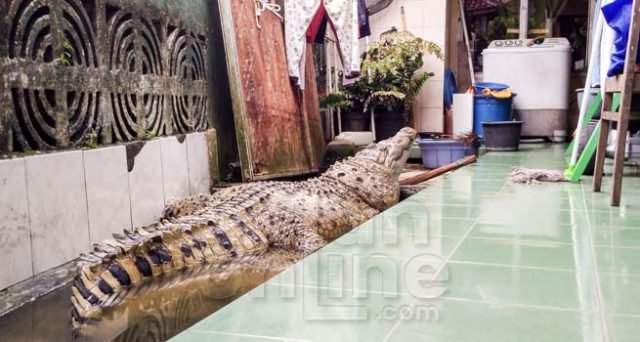 "When I saw the fishermen have little Kojak, I immediately bought it for 25,000 rupees. As a child he was angry and sometimes even bit my finger, and then we tamed. Kojak though the beast, but loves to communicate with people," says Muhammad about a favorite pet.
Kojak lives in a family with three small children, but Muhammad says that the crocodile would never harm children. According to him, Kojak quite aggressive and always calm. On good-natured Kojak come to see from all over Indonesia. One tourist even wanted to buy a crocodile for 74 000 dollars, but the owner didn't sell a family pet. The popularity of Kojak added a video, which depicted him swimming: Mohammed washes almost three-metre reptile in the front yard.
"I love reptiles and care for Kojak. I think he sees me as a father. Caring for them is easy: change the water in the pool once a week, clean the skin and the teeth".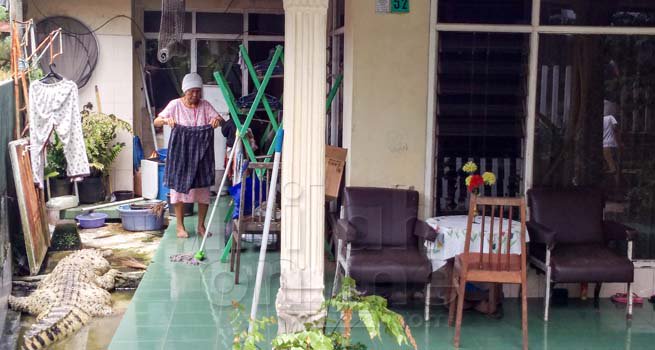 When Kojak brought home, he was only 25 centimeters in length and placed in a medium-sized aquarium. Now he has his own pool in the back yard, and it feeds solely on fresh fish.
Kojak is still young, so no surprise if it is older. His species can reach six feet in length and weigh about a ton. Therefore, Muhammad is likely in the near future will have to build a new pool for your pet.