Science
"It is pointless to vaccinate against coronavirus cases"
A month or two and Russia will create its own vaccine against coronavirus. Question — who it will need in summer to be useful when new outbreaks of similar diseases in the future and will generally be effective against many other viruses that circulate every season? We discussed with the head of the Department of Virology of Moscow state University. Lomonosova Olga KARPOVA. Recently there started to create the first Russian recombinant vaccine against the coronavirus, under the leadership of academician Joseph Atabekov, and Mikhail Kirpichnikov.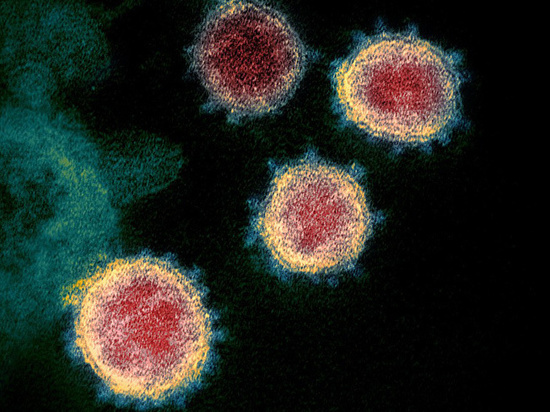 — Olga Vyacheslavovna, tell us what is valuable recombinant vaccine?
— The principal distinction is the absence of the pathogen in the composition. Due to this, the vaccine can be made uniform for the different types of coronaviruses.
Recently, speaking at a meeting of the Presidium of RAS, academician Mikhail Kirpichnikov reported that a candidate vaccine against coronavirus causing COVID-2109 can be created in 1.5–2 months. But to vaccinate its citizens in the midst of the epidemic is pointless, not too late for you?
— Of course, COVID-19 to do this is meaningless. But we work for the future, since exactly what dangerous infection caused by coronaviruses, such as SARS and MERS are returned. In 3-4 years the new coronavirus can overcome the species barrier and infect humans.
— Tell us now about the method of creating the vaccine.
— It is possible that she may need before. Because our vaccine will be effective against the three most dangerous coronaviruses: SARS, MERS and COVID-19.
As usual create a recombinant vaccine? Taken a kind of platform on its surface "planted" proteins of the virus against which we prepare this "weapon". After the introduction of the drug in the body after 2-3 weeks it starts to develop a persistent antibody immune response which protects our body from actual infection.
What are we doing? As a platform we have is the tobacco mosaic virus (plant virus, which is itself, like all plant viruses, absolutely safe for humans and animals). Only in nature, it resembles a wand, and we thanks to our know-how make it spherical by the special technology of heating. The result is a circular nanoparticle of size 500-600 nm, with unique properties: it is very stable, safe, adsorbs proteins of all coronaviruses. Here, using the last property, we hoisted her proteins made by genetic engineering, which are universal sequence that is part of a number of coronaviruses and SARS, and MERS, and COVID-19, and even those that are not active themselves, but we know that they live in the bodies of bats and sometime can break into our lives.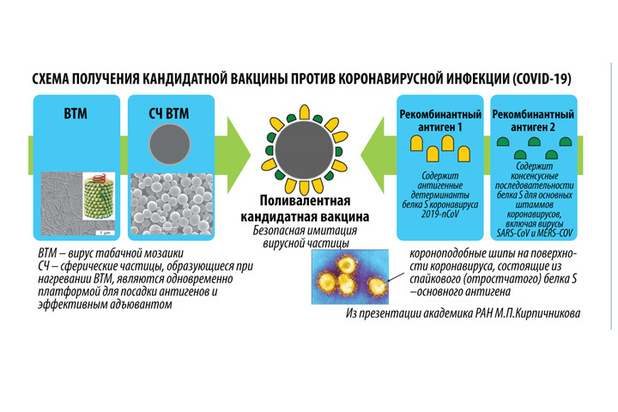 — To what stage you will be able to develop a vaccine at MSU?
— At the stage of verification of its safety and immunogenicity may work in our laboratory animals. In the future, when it comes to the last stages of preclinical trials, clinical trials, check the level of protection that will require a live coronavirus, the work can be continued in the institutions of the Rospotrebnadzor and the Ministry of health of the Russian Federation.
— As announced recently the former chief sanitary doctor Gennady Onishchenko, the coronavirus has already acquired 149 mutations. If you want to create a vaccine effective against so many varieties of it?
— The coronavirus is a positive-strand RNA coronavirus. In each replication (reproduction), an error may occur, which could theoretically affect the properties of the virus. Nevertheless, having a large sample of nucleotide sequences, we can still find areas that are on the surface of the particles and are common to a number of coronaviruses.
— How often will need to be vaccinated with a vaccine against the coronavirus?
— Most likely, regularly like flu, to get vaccinated against the coronavirus is not required. Still the strongest varieties erupt every 3-4 years. Although other coronaviruses we suffer almost every year, you know that?
— No.
— Science only identified 7 of coronaviruses, which may become infected people. Three of them are dangerous, and the other four we just don't notice: pochihali, coughed, endured a temperature of +37 degrees, and everything. They are usually one and does not differ from the usual influenza, rhinoviruses, adenoviruses, which can circulate in parallel.
And what percentage of people have these "benign" by coronaviruses?
— 10 percent, no more. It 229Е-СоV, NL63-CoV, HKU1-Cov, OC43-CoV. Incidentally, two of them also infect the population of the globe along with the flu and SARS-CoV-2, causing COVID-19.
— When it is necessary to do inoculations from dangerous coronaviruses, in order not to be late?
— As soon as you become aware of the emerging outbreak. Here it appeared in December in China, in our country you can do that in 2-3 weeks the virus has become immune.
— And if the country is rampant seasonal flu, and we were vaccinated against the coronavirus, some side effects from this can not be?
— No consequences will be, it is still something to be vaccinated against measles, and then get sick with the flu — totally different diseases.
— What if a person does a flu shot in the fall and winter will announce the "coming" of coronavirus?
— You can make a second vaccinated against coronavirus.
— What do you personally now protected from SARS-Cov-2?
— I keep duty hand gels alcohol-based in each bag.
— Masks don't use it?
Mask bring, as a rule, only harm. Have to put on a sick person, if he has contact with a healthy.