Science
The crew arrived from USA Sea launch has passed health inspection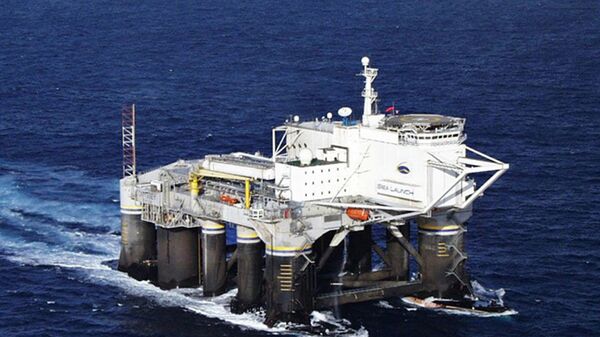 Rospotrebnadzor experts checked for virus diseases the crew arrived in the Maritime region of the U.S. the Assembly-command ship floating cosmodrome "Sea launch", the signs of the infection have not been identified, told RIA Novosti the representative of the sanitary-quarantine station at the checkpoint across the state border of the Russian Federation "Slavyanskiy SRZ".
The ship Sea Launch Commander left the port of long beach near Los Angeles on February 28. According marinetraffic.com the ship arrived in Slavyanka in 8.33 local time (GMT 1.33). Already at 9.00 (2.00 GMT) it started to moor in the Slavic ship-repair factory.
"In respect of arrivals of the ship carried out sanitary-quarantine control, which involved performing thermometry and detection of primary signs of infectious diseases. Nothing was detected: the temperature of the crew's normal, signs of infection arrived not revealed", – said the source.
According to him, the vessel departed from the United States on February 28, and period of incubation period of coronavirus – 14 days has expired. When the ship exits the border and customs services, ashore crew members will be allowed.
"The ship arrived 34 crew members from different countries: poles, Ukrainians, Filipinos, and three representatives of the Russians," – said the source.
"The background radiation of the vessel is within acceptable levels. All is well," he added.
Earlier it was reported that the Hong Kong transport vessel Xin Guang Hua from the launch platform Odyssey project "Sea launch", left long beach on March 2 is expected to arrive in Slav March 30.
In December 2019, the S7 group of companies reported that the US state Department gave permission for the relocation of the "Sea launch" in Russia. According to the group, new home port floating platform will become the village of Slavyanka South of Vladivostok, 80 kilometers from the border with North Korea. As stated by RIA Novosti, the General Director of the Slavic ship-repair factory Andriy Yakymchuk, a signed annual contract for Parking lot repairs. Parking – as long as the company can not find a base port or build it.
In April 2018, the S7 group of companies closed the transaction on purchase of the property complex of the project "Sea launch", becoming the full owner of the floating spaceport. The total transaction, including the withdrawal of conservation is about $ 150 million. However, starting a business was not continued.
Within the purchase of the S7 group of companies went the whole property complex of the project "Sea start": Assembly and command ship Sea Launch Commander (with launch control), the actual sea launch site – the mobile launch platform Odyssey, the ground equipment at the home port of long beach and intellectual property rights owned by the company Sea Launch, including trademark.
Floating cosmodrome "Sea launch" mothballed in 2014, when he was made last, the 36th launch of the Ukrainian launch vehicle "Zenit", most of which consisted of Russian components. The work was stopped due to the deterioration of Russian-Ukrainian relations.