World
Onboard Costa Atlantica off the coast of Nagasaki has found over 30 infected COVID-19, including Russian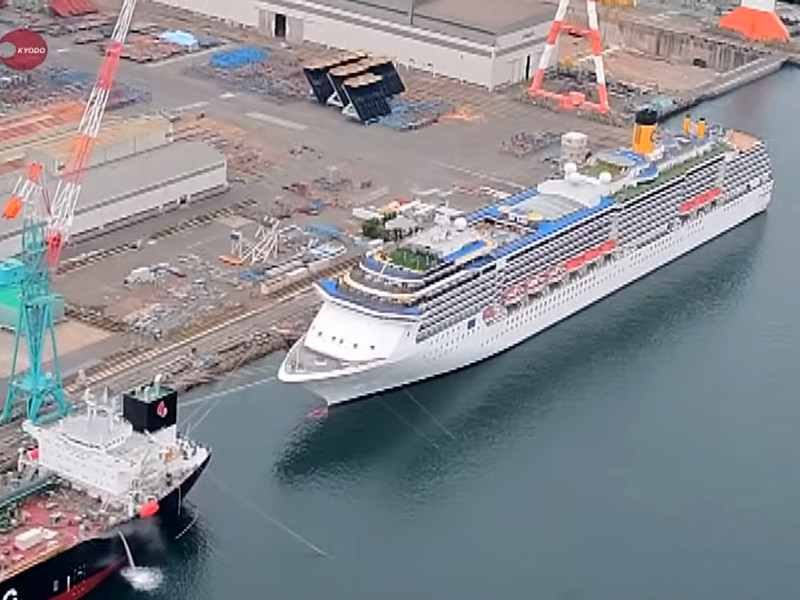 On Board the Italian cruise ship Costa Atlantica anchored in the Japanese port of Nagasaki, an outbreak of coronavirus. Contracted by 34 members of the crew, including a Russian citizen. This was confirmed in Embassy of Russia in Japan. "According to doctors, his condition does not cause concern", – reported in Facebook of the Embassy. The Embassy will monitor the provision of the Russian medical aid and will provide the necessary assistance.
Total on Board the vessel 623 members of the team, no passengers. According to Reuters, the ship is at the shipyard of Mitsubishi Heavy Industries since the end of February. He had to pass the prevention and repair and sail at the end of April. However, in mid-April, one of the team members was discovered COVID-19. According to the analysis of coronavirus confirmed yet 33 members of the team.
According to the prefectural government, severe symptoms, no one there. All sick foreigners. The authorities of Nagasaki and requested the assistance of the Japanese government in connection with the situation. Possible plan to take the tests for coronavirus all aboard. Those who have the result is negative, are allowed to go ashore and to return home. Infected with asymptomatic and a light course of the disease will remain on the ship under the control of physicians, other cases hospitalitynet, writes the Japan Times.
March 14, in the Prefecture were identified the first infected with a coronavirus. According to the official representative of Mitsubishi, Costa Atlantica assured the company, that from this day the crew of the ship will not leave the terminal, but later it turned out that some of them went to the airports in connection with the expiration of the employment contract or in the hospital. In Mitsubishi noted that all output from the terminal temperature was measured, but has called regrettable the fact that the team members all left the ship.
The Governor of Nagasaki Prefecture has accused the operator of the Costa Atlantica in that it does not track the movement of the crew in spite of promises. Among the inhabitants of Nagasaki, there are growing concerns in the outbreak of the coronavirus in the liner: the still fresh memory of the situation aboard moored off the coast of Yokohama ship Diamond Princess, where it has infected more than 700 people, 14 died. Apart from these cases, Japan was more than 11.5 thousand cases COVID-19 and 281 died. The country has a emergency mode.