Science
Scientists have proposed to treat COVID-19 chimeric antigens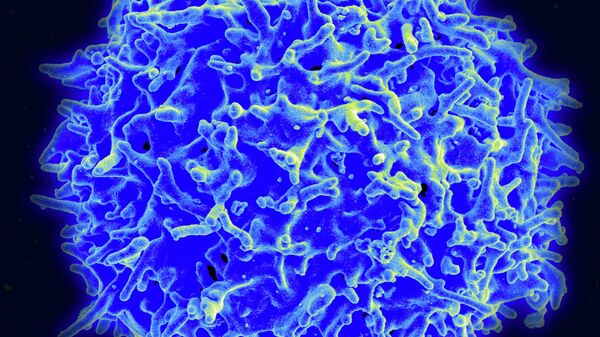 Singapore scientists have proposed to use a method of immunotherapy, based on the design of chimeric antigens from its own immune cells of the patient, which has been used successfully in the treatment of cancer patients, for the treatment COVID-19. The study is published in the journal of Experimental Medicine.
A method of treatment of cancer patients using the so-called virus-targeting receptors involves extracting immune cells — T-lymphocytes — from the patient's bloodstream and engineering them to one of two types of receptors: receptors chimeric antigen (CAR) receptor or T-cell (TCR). TCR is located on the surface of T-lymphocytes, and CAR are artificial receptors of T-cells, which are generated in the laboratory. These receptors allow designed T-lymphocytes to recognize cancerous or infected cells.
Scientists from the Medical school of Duke-NUS in Singapore has proposed to use this method as a potential therapy for coronavirus infection COVID-19. In addition to supporting cancer patients such therapy has successfully been used in the treatment of several infectious diseases, such as hepatitis B.
Generally, this type of immunotherapy requires specialized staff and equipment, and it must be carried out indefinitely. This makes the method costly to treat most types of viral infections. But often there is no other alternative. So, most of modern antiviral drugs just suppress the replication of hepatitis B virus, and treated with their help less than 5 percent of patients. The treatment of these patients with combination antiviral and CAR/TCR T-cells remains the only viable option.
The authors developed their own version using electroporation of mRNA for the construction of T-cells CAR/TCR. The functional activity of T-cells is limited to a short period of time and thus provides enhanced security features that are appropriate for use in patients with viral diseases.
"This method is used for the treatment of cancer patients, when lymphocytes of patients are forwarded to the detection and destruction of cancer cells. However, its potential against infectious diseases and specific viruses has not been studied — are in the press release, medical school words of one of the authors of the study, Dr. Anthony Tanoto Tana (Anthony Tanoto Tan). — We argue that some infections such as HIV and hepatitis B virus may be an ideal target for this therapy, especially if the lymphocytes were designed using the approach that keeps them active for a limited period of time to minimize potential side effects."
At the time, the authors demonstrated that T cells can be redirected for targeting the coronavirus responsible for SARS. In the new study, they show that the potential of immunotherapy T-cell CAR/TCR can be used for coronavirus SARS-CoV-2, calling COVID-19.
"Our team continues to explore the potential of immunotherapy T-cell CAR/TCR to combat the virus that causes COVID-19, and the protection of patients with its symptoms," said first author of the study, Professor Antonio Bertoletti (Antonio Bertoletti).