Crypto News
Data show that if bitcoin adds $1,000 per day, then comes correction
Over the past few years have seen a trend where the daily strengthening of bitcoin over $1000 ended a significant correction. This drew the attention of the analyst Timothy Peterson of company Cane Island Alternative Advisors.
He analyzed all the growth phase of BTC and came to the conclusion that the first cryptocurrency always retreated after the jump about $1000 in a single day.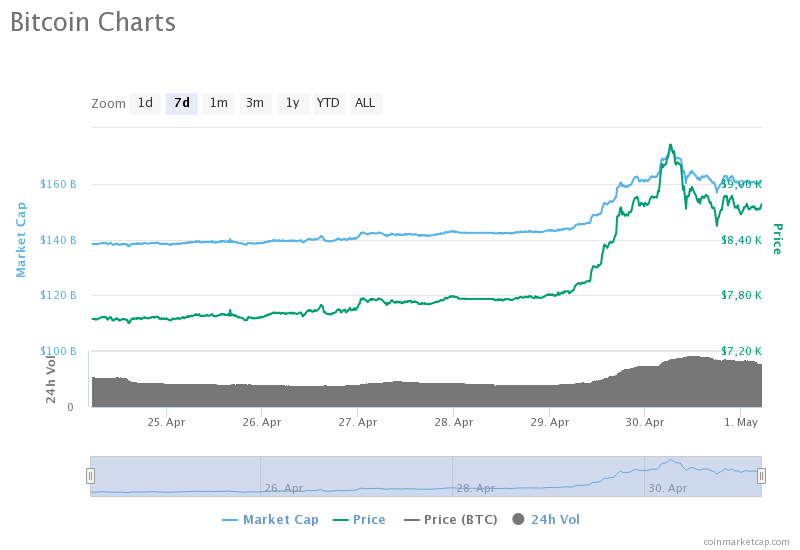 Breakthrough more than $1000 in the history of bitcoin occurred only 14 times, said the researcher. After this BTC jump quickly lost in value from 5% to 38%.
The overall market tends to decline by 10%-20% after short-term growth. The players are starting to change tactics, which increases the likelihood of a more sustained pullback.
Today bitcoin is trading at $8779. In the last 24 hours, the capitalization of BTC has lost 5% and dropped to $161,15 billion in Losses and major altcoins. For example, ether (ETH) fell to $212 (-5,5%), litecoin (LTC) and EOS fell by more than 6% to $47 and us $2.8 respectively.
In the middle of this week, we watched as the bitcoin shot up to $9400 on some commercial sites. And leap to more than $1000 happened just a day.
If 29 APR coin was around $7800, then the next day she tested values above $9300. After the jump, however, sales resumed, and resulted in a sharp weakening of the BTC.