Science
The attack on the virus. Can a vaccine to stop the epidemic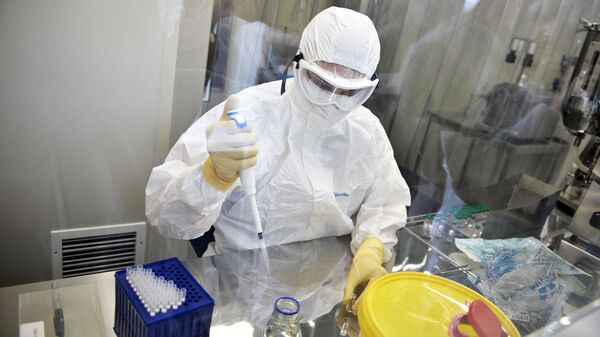 Alfia Enikeeva. When the epidemic began, scientists believed that one infected person infects up to four people. Now talking about six. So, totally stop the epidemic without a vaccine will be very difficult. At least this view is held by the world health organization.
Several million lives
The first cases of infection with the novel coronavirus SARS-CoV-2 revealed in December 2019. A month later, scientists estimated the efficiency of transmission (R0) — that is, how many people can be infected after contact with infected person is from 1.4 to four. Now there is datathat this indicator is higher — about 5.7. That is, to cope with EPIDEMIA no vaccine will be very difficult.
One of the most legkorastvorimah infections in the world is measles. The effectiveness of the pathogen, which, like SARS-CoV-2, refers to RNA viruses, estimated at 12-18, and sometimes higher. The measles virus is transmitted by airborne droplets, and susceptibility to it almost absolute. To get it, don't even have contact with the patient, simply visit the room where he had been. And to catch the measles can be and at the end of the incubation period when no symptoms of ill yet.
That is why coprifuoco the era of almost all people in one form or another, had the measles, ten percent of whom died. In absolute terms, approximately 2.6 million lives annually. A third of those infected received severe complications — blindness, encephalitis, diarrhea, pneumonia. Large epidemics occurred every two to three years.
That all changed in the early 1960-ies, when the American microbiologist Morris Hilleman developed a combined MMR vaccine against three dangerous diseases: measles, mumps and rubella. The drug consisted of attenuated viruses of these diseases.
Children in the United States began to vaccinate in 1963. In four years the number of people infected with measles in the country declined to a few thousand, although earlier the figure reached up to 700-800 thousand every year. According to American researchers, in the first 20 years of vaccination against measles in the United States managed to avoid nearly 52 million cases of the disease.
In the USSR EN masse to vaccinate against measles began in 1967. To ten years of age it was time to have had nine children out of ten. Due to the vaccination diseases declined tenfold, and mortality in 140 times.
In Russia and now the proportion of the vaccinated population remains high — more than 97 percent of Russians covered by the vaccines included in the national calendar. That is why we have not had a measles outbreak, which last year occurred in neighboring Ukraine.
The cough that kills
Not less contagious than measles, the other children's infection — pertussis, caused by the bacterium Bordetella pertussis. She, too, is transmitted by airborne droplets. One infected person can infect up to 17 people, and ill even babies, as innate immunity to the disease there. Whooping cough Dodge cough, which is sometimes held for months, and serious complications — pneumonia and encephalitis.
Before the invention of vaccines and mass immunization, which began in the years 1950-1960, the incidence of pertussis was second only to measles. According to the world health organization, up to 80 percent of the population was infected with Bordetella pertussis, half of them the disease proceeded in a severe form. From one to four percent of the infected people died, mostly children under the age of five years. Whooping cough outbreak has happened every three to four years.
The first experiments of vaccination pretty quickly reduced not only the number of new infections, but also reduce the severity of the disease. So, in the USSR, where to vaccinate against whooping cough began from 1959, by 1960-th the number of new infections has decreased almost twice — from 428 to 223 per hundred thousand population. By 1970, the country has recorded only 17 cases per hundred thousand population. It was obviously a significant reduction in the mortality rate — from 2.6 cases in 1959 to 0.03 in 1969.
Today from whooping cough in Russia vaccinated over 95 percent of infants, and morbidity, according to Rospotrebnadzor, — 7.1 cases per hundred thousand population.
In other countries the situation is similar. So, in the United States in coprifuoco period each year fell ill with whooping cough 150-300 thousand people. Seven thousand of them died. Today, such diagnosis in the United States put only thirteen and a half thousand patients a year, and die no more than ten people.
In the first half of last century, polio, affecting every year thousands of children became a national disaster for many countries. Its causative agent is the polio virus is very stable in the environment. It is stored in water up to one hundred days in feces up to six months and insensitive to detergents and antibiotics.
In the United States in the early 1950-ies they were infected annually, about 58 thousand people. Ten to 30 percent of them died. Forty percent of cases were permanently disabled. However, in 1962 the number of cases of infection dramatically decreased to 910, and in 1972, and is to 31. The thing in mass vaccination, which in the United States began about 1955.
In the USSR there was a similar situation. If in 1950-ies of polio annually was sick ten to thirteen thousand Soviet children, by 1963, there were only 560. And in 1967, the country registered only 67 infected. Mass immunization against polio began in 1960. In other words, to almost completely get rid of the disease took only three years.
Today the world health organization says polio almost defeated. Since 1988 the number of reported cases decreased by more than 99 percent. The only country where still ongoing endemic transmission — Afghanistan, Nigeria and Pakistan. Therefore, to abandon the mass vaccination against polio earlier. It shows the example of Tajikistan, which has not vaccinated against the disease required and received in 2010 an outbreak of polio. When sick over seven hundred people, 21 of them died. Mass vaccination of children, mainly by the international community, prevented the epidemic began.