Science
In Russia figured out how to cure myocardial infarction in a matter of months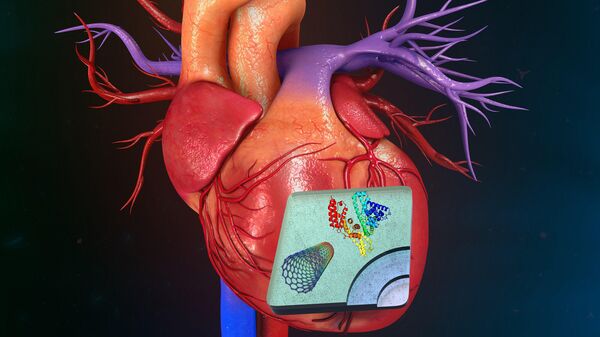 A new approach to the regeneration of organs that are unrivalled in price and efficiency, has been developed by scientists at the National research University "MIET". They created the material, as explained by the authors, will allow to restore the cardiac tissue after a heart attack in just two to four months. Data published in the journal Spectrochimica Acta Part A: Molecular and Biomolecular Spectroscopy.
Professionals MIET for the first time in the world, according to them, managed to find a way of chemical bonding of carbon nanotubes with molecules of the most common blood protein — albumin. Outdoor their physical mechanism has allowed us to develop a new method of laser 3D printing of nanocomposites.
"Under the influence of the laser between the albumin and carbon nanotubes there is a strong covalent bond that allows you to print the design specified shape. Living cells, e.g., connective tissue, or myocardium, easily take root in such frames (scaffold), making possible the efficient recovery of damaged tissues of the body," — said the head of the laboratory of biomedical nanotechnology, Institute of biomedical systems, national research UNIVERSITY MIET Alexander Gerasimenko.
As explained by scientists, they created cardiac implants three to four times cheaper than the Russian and six to eight times cheaper than their foreign counterparts, outperforming both other on a number of parameters. Except scaffolds used in tissue engineering, the technology is also suitable for the production of biosensors, microfluidic systems, and even advanced drugs against cancer.
"We are able to print the material close to the characteristics of cardiac tissue: it can be reduced along with the myocardium and has electrical conductivity, the flowing currents of the heart. Our method also allows you to adjust the porosity of the structures, providing penetration as living cells and sprouting of capillaries and nerve endings," explained Alexander Gerasimenko.
Before implantation scaffold populated printed living cells and some time to "ripen." As noted by experts of national research UNIVERSITY MIET, a number of successful experiments have shown that it is possible to use stem cells that can turn into cells of that tissue into which they are transplanted.
Scientists believe that their method will effectively deal with such pathologies as congenital heart disease and myocardial infarction, aneurysm, atherosclerosis and infarction. According to them, nano-composite "patch" on myocardial infarction within two to four months completely restores the affected area, and the frame is thus absorbed.
Scientists have noted that technology is implemented in close cooperation with the leading Russian scientific centers. In the future, the team intends to proceed to introduce the method into clinical practice, and to adapt the technology for creating coatings for various implantable systems.