Science
Found a new relationship of excess weight and coronavirus
Scientists have described several mechanisms that explain why fat people coronavirus more severe. Was, for example, that adipose tissue contains immune cells, the location and number of which can be fatal factor in COVID-19.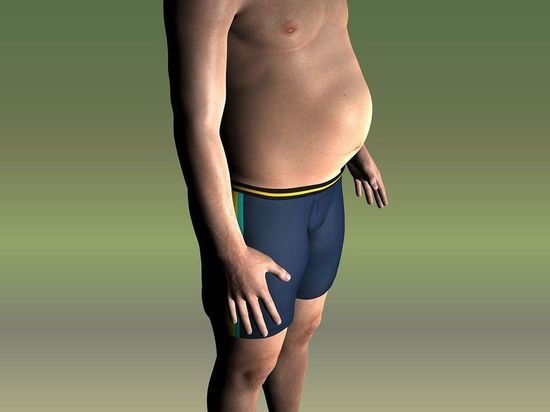 According to reports from the British intensive care, almost three quarters of people seriously suffering from the epidemic of the coronavirus have excess weight. Data obtained in British public hospitals this week, showed that obesity increases the risk of death from coronavirus by almost 40 percent.
Although the reasons for this phenomenon remain unclear to the end, scientists warn about the potential dysfunction of the immune system, which makes the virus more difficult.
This may be for several explanations. Adipose tissues contain vital immune cells. The availability of these cells the rest of the body is seriously reduced.
However, it may be the opposite – the immune response may be too active (so-called "cytokine storm"), which is believed to play a major role in the death from the coronavirus.
According to the National center of audit and research in intensive care which collects data from hospitals, there is a high proportion of people with obesity in the intensive care unit. Almost three quarters (73%) hospitalized – fat people. About 35% of cases of coronavirus are overweight, 31% obese, and just over seven per cent severely obese.
Dr. Diane Sellia, lecturer in cellular and organismal metabolism at the University of reading, said: "Fat people tend to have dysfunctional immune systems – their adipose tissue, for example, becomes a reservoir for immune cells known as macrophages. For obesity they occur with greater frequency, start to secrete inflammatory cytokines and negatively affect the immune and metabolic health."
"It is likely that the immune response to the virus, thus, ineffective in people with obesity. This may explain why appropritate, Asians and members of other ethic minorities who have a higher frequency of obesity, are more vulnerable to the virus," added the doctor.
Studies have shown that people with obesity are more likely to suffer from serious complications or die from infections like the flu because their immune system is constantly in tension, it tries to repair the damage that cause the macrophage cells. Use all its energy to fight internal inflammation means that the body's defense system is not enough resources to protect against new infections, such as COVID-19.
Obesity is one of the main risk factors for development of concomitant diseases, including heart disease, diabetes and high blood pressure, which were identified as common medical condition among patients COVID-19. And people with underlying medical conditions are more vulnerable to serious diseases caused by virus.
Published this week study, which is considered the largest of its kind in Europe, showed that more than half (53%) patients with COVID-19 in the UK had at least one comorbidity. Nearly a third of them (29%) suffered from heart disease – conditions that block blood vessels and impede pumping of blood and oxygen throughout the body. Almost one-fifth (19%) had diabetes, as many lung diseases, 15% of the kidney disease and 14% with asthma.
In the same report it was shown that after admission, the survival rate among people with obesity may be lower than those who are not suffering from this disease.
Professor of metabolic medicine at Oxford University Fredrik Karp says that if you have a "big belly", this can be problematic when you're lying: weight stomach fat pushes the diaphragm upward, reducing the volume of the lungs. And this is especially dangerous during the current pandemic coronavirus. COVID-19 – a respiratory disease which in severe cases can affect lung function. Therefore, the limited capacity of the lungs may exacerbate disease symptoms. If the lung condition had already deteriorated, there is a limited supply of oxygen in the blood, which can affect vital organs such as the heart.
Dr. Diane Cellia explained: people with overweight have more cells that require oxygen for operation, which further reduces the number of available organs: "as your infection progresses the virus infects more and more cells, oxygen demand in tissues in humans with obesity is much higher than a lean person. In the end, the fat body becomes overloaded with lack of oxygen, falling in the major organs".
Last week Dr. Aseem Malhotra said Prime Minister Boris Johnson was so badly affected by the coronavirus, because he has a "significant" weight. He noted that other "bad" members of the government had recovered much faster and was not hospitalized.
Dr. Malhotra said: "it is Obvious that the whole nation was very disturbing to see our Prime Minister enters the hospital with COVID-19. It's just an observation, but it is consistent with known facts, as Boris, unfortunately, has a significant overweight. A few years ago, when he was mayor of London, I was talking to one of his very senior advisers, and he has personally expressed to me their concern about his weight."