World
Zelensky said that he expects Saakashvili result in the coming months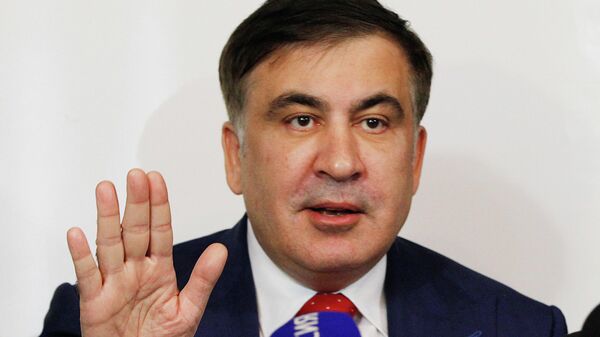 The President of Ukraine Vladimir Zelensky said Saturday that he expects in the coming months, the positive results from the appointment of Mikhail Saakashvili, the Chairman of the Executive Committee of the national Council reforms, in particular, the issues of business deregulation and reform of customs.
Earlier, the Ukrainian President Vladimir Zelensky Saakashvili appointed head of the Executive Committee of the national Council of reforms of Ukraine. In response, Georgia recalled its Ambassador from Kiev for consultations. The head of Georgian foreign Minister David Zalkaliani stressed that the intention to break diplomatic relations with Ukraine, his country has no. The foreign Minister said that Saakashvili is a Ukrainian citizen, so "no country in the world can not specify" where to assign.
"The results from Saakashvili to wait on the second day after his appointment, but in the coming months it needs to be. The result is about deregulation in business and customs reforms", – quotes Zelensky Agency "UKRINFORM".
According to him, Saakashvili's presidency in Georgia really was able to overcome corruption and create a modern customs.
"We talked about it a lot. He said that at the time put new people at customs, then all dispersed. After a while other set and had to disperse again. Well, such a difficult thing – customs reform. I wish he was involved in it," said Zelensky.
The head of Ukraine also said that Saakashvili "is quite strong investment ties with many countries."
Saakashvili left Georgia in 2013, where he opened a number of criminal cases, some of them he was sentenced in absentia to prison terms. In the spring of 2015 Saakashvili came to Ukrainian politics, when held the post of President of Ukraine Petro Poroshenko appointed him Governor of Odessa region, before granting citizenship. However, in November 2016 Poroshenko has dismissed Saakashvili, saying that he not only fulfilled promises to develop the region, but also significantly worsened the economic indicators of the region. At the end of July 2017, Poroshenko deprived Saakashvili Ukrainian citizenship. Later, Saakashvili has filed a complaint against this decision of the Ukrainian court, it is still not considered.
The government of Ukraine in February 2018 has sent Saakashvili to Poland, from which he in autumn 2017 illegally came to Ukraine broke through the cordons of border guards and law enforcement officers. Ukraine's new President Vladimir Zelensky on may 28, 2019, a decree was returned Saakashvili Ukrainian citizenship. Policies on the following day returned to Ukraine.