World
At least 11 people died and thousands suffered because of a major gas leak at a chemical plant in India (VIDEO)
IndianExpressOnline / youtube.com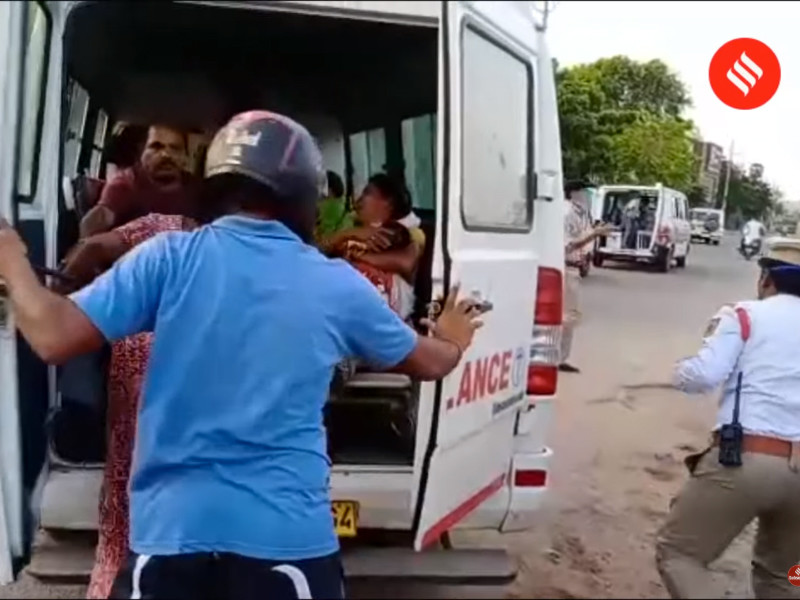 At least 11 people were killed due to a gas leak at a chemical plant near LG Polymers c Indian city of Visakhapatnam. According to local media, admitted more than 800 people, injured five thousand. The situation was brought under control only after 12 hours after the incident, said emergency services in India.
According to Times of India, among the victims were two elderly men and an eight year old girl. Within a radius of about three kilometers from the plant after a gas release a lot of people lost consciousness.
The victims also complained of a tickling in the eyes and rash on the body. Later in the emergency services said that the air was fixed toxic gas styrene.
The total number of victims is estimated at five thousand people. According to various sources, hospitalized from 200 to 1,000 people, including dozens of children. Many patients in serious condition, the rescue attracted the military physicians they arrived at local hospitals with 50 oxygen apparatus.
Local authorities reported that the incident occurred on the night of 7 may, at 02:30 local time (about 00:00 GMT). To fix a gas leak was only 12 hours, said in the National response force for natural disasters (National Disaster Response Force, NDRF). "The situation is now under control, NDRF will remain on the scene until the incident is fully resolved," added the Indian Department.
The Minister of industry of the state of Andhra Pradesh of Mecapate the Gut Reddy said that in fact the incident initiated a criminal case. According to Reuters, the plant was ready to resume work, as the region began to weaken quarantine measures to contain the coronavirus. A police officer in an interview with TV channel NDTV said that the leak occurred from the large tanks that were left unattended due to limitations in the epidemic of the coronavirus. LG Polymers plant near Vishakhapatnam produces polystyrene – the plastic used in the production of fiberglass, rubber and latex.
My heart full condolence for #VizagGasLeak pic.twitter.com/U0dizz8dhI

— Mahaboob basha (@Immahaboob) May 7, 2020
Vizag: Over 1,000 people fell sick and many faced breathing difficulties after an alleged gas leak at a chemical plant at RR Venkatapuram near Naiduthota area close to Gopalapatnam. #VizagGasLeak pic.twitter.com/yRAxHogONB

— TOI Vizag (@TOIVizagNews) May 7, 2020