Science
In the genomes of SARS-CoV was found 2 mutations associated with adaptation to humans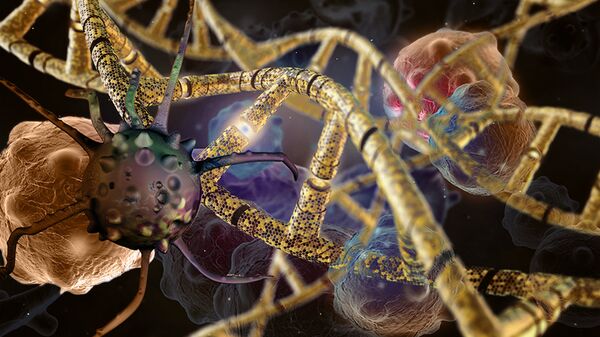 The analysis of thousands of genomic sequences of the novel coronavirus conducted by British scientists revealed that the SARS-CoV-2 the number of mutations that arise in different lines of the virus whatever that is evidence of its continued adaptation to human. Results published in the journal Infection, Genetics and Evolution.
The first complete genome sequence of the new coronavirus was introduced in January of this year. Since then scientists from different countries was sequenced about 11000 complete genomes of SARS-CoV-2. These data allow us to understand the history of the spread of the virus, to track changes in its structure, help to develop vaccines and drugs.
Biologists from the University College London presented in the new work, the results of the analysis 7666 different assemblies of the genome of SARS-CoV-2. This is an unprecedented geographical and temporal coverage of the study of the evolution of the pandemic virus COVID-19.
Scientists have confirmed that all variants of the virus had a common ancestor, which in 2019 for the first time to infect humans. This clearly has occurred not earlier than 6 October and not later than 11 December 2019. The authors completely exclude the possibility that SARS-CoV-2 was in circulation among the people before.
But since in the world there are many different strains of the novel coronavirus, and not all of these strains have geographic reference. For example, in the UK alone, where the study was conducted, the diversity of strains was almost as wide as across the world. The authors attribute this to the fact that the virus is there delivered repeatedly.
Analysis of the diversity of the genomes of SARS-CoV-2 revealed 198 mutations that have independently arisen in the genome several times in different lines of the virus — this phenomenon is called homoplasies and the so — called nonsynonymous changes at the level of proteins. This suggests that the coronavirus that originated in animals, continues to adapt to life in the human body, scientists say.
But there are in the genome and conserved sites in which mutations occur very rarely. According to the authors, the region should pay attention to when designing vaccines and drugs, as in this case, the less likely that the virus can evade drug action as a result of subsequent mutations.
The researchers compared the results obtained for SARS-CoV-2 with data on viruses closely related to SARS-CoV-1 and MERS-CoV, in the genomic sequences which are also documented facts of homoplasy. Just in the comparative analysis involved 15 assemblies for SARS-CoV-1 and 255 assemblies for MERS-CoV. Scientists have discovered six homoplasy for SARS-CoV-1 and 350 homoplasy for MERS-CoV, which suggests that these two coronaviruses also have gone of adaptation to humans.
The authors have developed a new interactive online application open source so that researchers worldwide can analyse the genomes of the virus and to apply similar approaches to study its evolution.