Crypto News
Prediction: Bitcoin will take off in 6-9 months after halving
Cryptosphere never saw the breakthrough of bitcoin ahead of the may of halving (reducing rewards miners), which have already taken place.
The largest digital currency managed to end last week to exceed $10,000. However, after that the market began to sell, and in the end BTC dropped to $8550 on Monday evening, may 11. Capitalization of bitcoin has dropped to $157,192 billion.
However the expert community is still very optimists who predict a breakthrough of bitcoin in the medium term.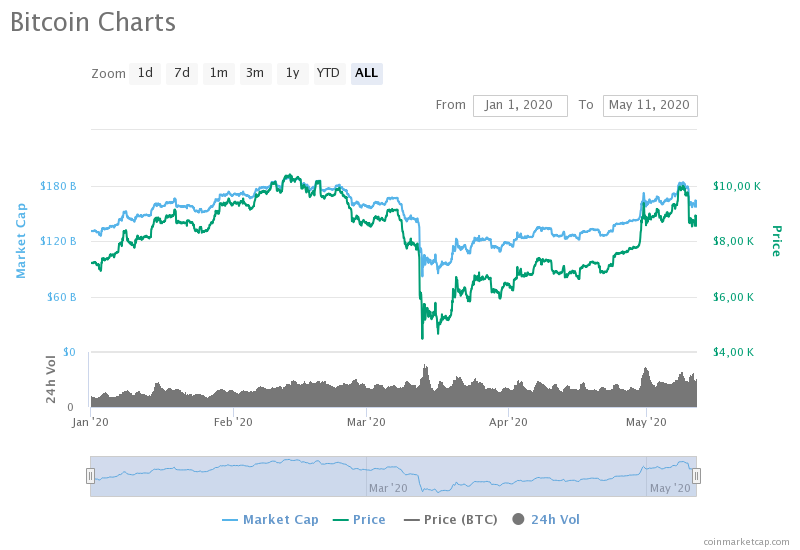 According to the head of the research division of the company Stack Leonard Neo, the climb starts after about 6-9 months after halving.
After reducing the awards for the extraction of the block from 12.5 to 6.25 BTC miners over the next few weeks will be to adapt to new working conditions, the expert quoted by CNBC.
Neo said:
We expect that this [the recovery of the market] can take 6-9 months before the balance, then bitcoin will go to growth. Further shocks in the global economy can accelerate its upward trajectory.
The researcher recalled that after the previous halving in 2016, the bitcoin fell 10%. However, after approximately six months, the coin soared more than 900% compared to 2012 (when the first cut of the reward for mining a block) and by 38% compared with the position of the asset before alvingham 2016.