Science
A huge gas bubble discovered in the lake, could explode at any minute
A huge gas bubble from methane detected from space by the Russian satellite "Canopus-V" in lake Baikal. The picture was taken in Slyudyanka district. On the picture you can see a large white spot under the water, on top of which is an active process of fracture and melting of ice.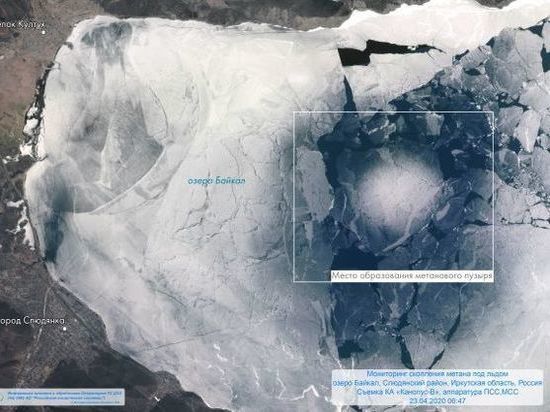 As reported by "MK" at the Institute of geography RAS, whose staff for several years to monitor gas at the bottom of lake Baikal, the bottom of this lake is rich with gashydrate (rigid gas, like prisoners in the ice shell). Methane formation is typical of all water bodies and is associated with the process of breaking down dead organic matter in the absence of oxygen.
Until recently at lake Baikal recorded emissions of methane from the many small bubbles which slowly float to the surface. The largest, which was discovered by the satellite, were not here very long. It could be formed of many small bubbles.
Large methane bubbles do not last long. Over time, the gas will break out, accompanied by strong explosive Bang. Knowing the location of the underwater tank of gas, the ship captains keep away from it to avoid disaster. "Exhaust" these bubbles can turn the ship.
In addition to the gas reserves at the bottom of Baikal a lot of oil. However, their extraction, as this could cause damage over hundreds of local endemic fauna, inhabiting a limited area.