Science
Scientists drilled a new entrance into the cave "Tavrida" in the Crimea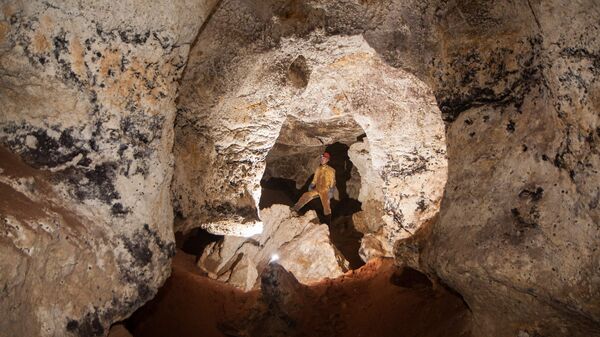 Experts drilled a new entrance into the cave "Tavrida" in the Crimea, which will allow scientists to continue to study open in 2018 unique karst cavity in Belogorskiy district of the Peninsula, reported the press service of the Crimean Federal University (KFU).
"Specialists of the Crimean Federal University drilled a new entrance into the cave "Tavrida". Drilling took one day, but it was preceded by a long preparatory work: geophysical survey, geodetic and cadastral work, prepare draft", – told at University.
Chairman of the Board of the Russian Union of speleologists, senior lecturer of the University Gennady Samokhin said that the new entrance leads into the furthest and lowest part of the cave. The new entrance is a hole eight metres deep, is fenced and guarded. In the place where the new entrance at the bottom of the cave is about five meters of clay, so the upper part remains less than a meter of free space. Subsequently, the clay will be removed, and the place will be enough, said Samokhin.
"Our task is to conduct a qualitative project work under the ground in order to make the tour route. Now we will do a topographical survey underground will continue to work with paleontology and Mineralogy. I am sure that the finds will be very much," said Samokhin.
The first inspection of the underground space after the return to the cave showed that the drainage system of the route "Tavrida", which is laid over the cave, made very well, inside the cave the water from the top never falls, said the scientists. Samokhin also reported that the new entrance will be used by scientists, subsequently it is planned to do the cave tour entrance. The first entrance, which was open at the time of construction, was closed, leaving the cave preserved.
The builders of the track "Tavrida" has previously defended his cave with artificial structures. The length of the slab on which the track passes over the cave, made up of 130 meters, a width of 22.7 meters and a thickness of 1 meter. It was built on a Foundation of 95 piles from 27 to 40 metres. Traffic over the cave was discovered in late 2019.
Karst cavity – a cave more than a kilometer long was discovered in the Belogorsk region of Crimea near the village of Zuya during the construction of the route "Tavrida" in 2018. Cavers of the Crimea found in the cave the remains of ancient predators and other animals. The cave was organized a complex expedition, which consisted of experts of different fields – cavers, paleontologists, archaeologists, paleobotany, specialists in radioisotope Dating.